VMware unleashes vCAOS on the world
VMware's vCloud Air Object Storage with either Google or EMC ViPR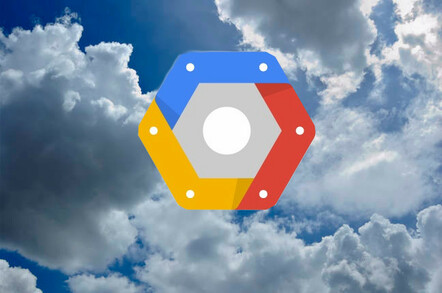 VMworld 2015 VMware is launching a cloud object storage service based on either the public Google cloud, or EMC ViPR for a private cloud alternative.
It's called vCloud Air Object Storage, which amusingly acronymizes to vCAOS, not to VMware's liking we would think, and is intended for multi-petabytes of unstructured data.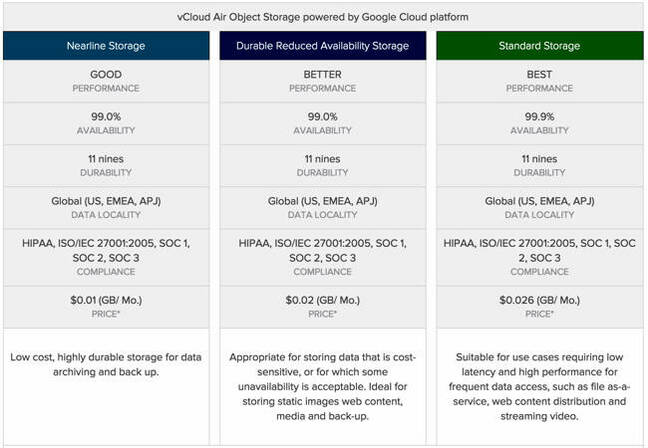 vCloud Air Object Storage powered by Google Cloud Platform
The two versions are:
VMware vCloud Air Object Storage powered by Google Cloud Platform, based on Google Cloud Storage and integrated into vCloud Air OnDemand. There are three flavors:

Standard offering, the best performance
Durable reduced availability (DRA), with not-so-good performance
Nearline with slightly worse performance

VMware vCloud Air Object Storage powered by EMC, based on EMC ViPR, offered by EMC Cloud Services and integrated into vCloud Air OnDemand. This is a beta, and there are two versions:

Standard – single-region storage and 11 x nines of availability
Premium – geo-replicated, multi-region storage and 13 x nines of availability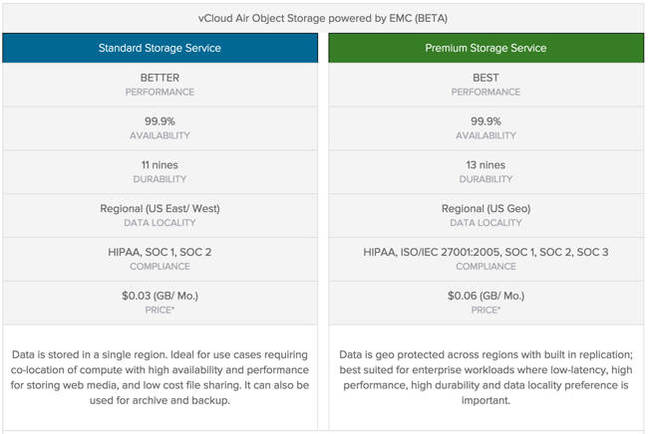 vCloud Air Object Storage powered by EMC
In both cases, objects are stored in buckets in a flat namespace using object addressing technology with no need for RAID data protection.
The EMC premium offering involves asynchronous replication, according to Roshni Pary, Senior Product Marketing Manager for vCloud Air Product Marketing. Her blog says: "Customers with data locality preferences will know exactly where their data is stored. Customers also have the ability to co-locate in the same data center as the service, or in some cases, run compute on vCloud Air in the same data center, to reduce network latency."
Pary reveals: "The service will support very large objects (up to 20TB), and customers will have the ability to create up to 1,000 buckets and unlimited objects per bucket. The service provides a rich UI experience with access to data explorer."
With EMC, the top-level offering is ViPR, which offers multiple data services across multiple EMC and third-party storage hardware products that can have their own data services. We don't yet know whether the ViPR object data service is involved or which hardware products are involved, though we would assess it initially as being EMC Isilon arrays driven by the ViPR object service.
VMware says its vCloud object storage "will be easy to set up and exceptionally durable and available, and will reduce the need for data protection with built-in redundancy. It will support global access use cases with easy access from any device, anywhere, anytime."
Suggested use cases are backup, file share, Web 2.0, Big Data, and the Internet of Things.
There are several vCAOS Google pay-for-use payment options: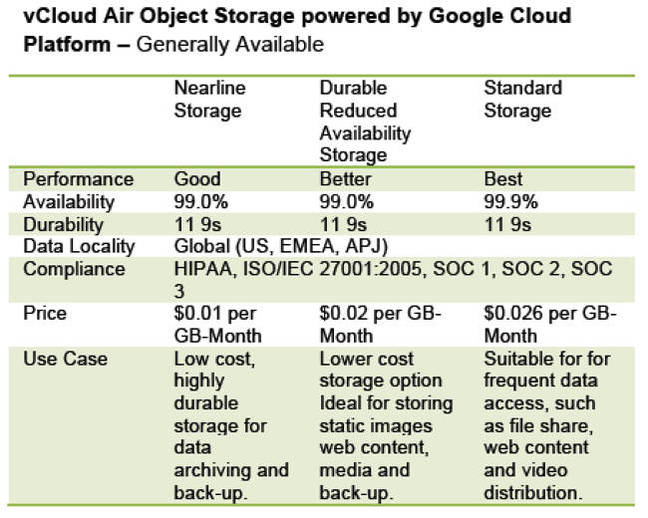 VMware vCloud Air Object Storage powered by Google options
Google cloud-powered Object Storage is generally available in the USA, EMEA, and APJ. EMC-powered Object Storage is in a beta test phase of development; to take part click here. Both EMC object storage services will be generally available in the second half of 2015. ®
Sponsored: Minds Mastering Machines - Call for papers now open