SolidFire's flash boxes pull into Platform9
All abord the private cloud train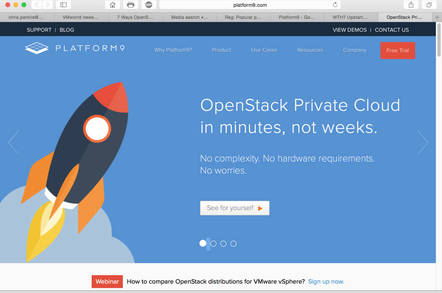 Has the OpenStack loco got enough of a head of steam to leave the station? No one knows yet, but here is more evidence of suppliers rushing to support it: SolidFire's all-flash arrays can be integrated into Platform9's Managed OpenStack OSaaS – OpenStack-as-a-Service – offering.
With Platform9's software, virtual servers can be used for private cloud computing, providing – Platform9 purrs – "an [Amazon Web Services] AWS-like agile, self-service private cloud within minutes." It has been in production for KVM environments since January 2015, and VMware vSphere support was announced earlier this month. Docker support is in development with a beta expected later this year.
Now SolidFire arrays can be integrated into Platform9's OpenStack service capability, providing their flash performance and noisy-neighbor-quelling quality of service. There is a point-and-click interface to automate the setup and provisioning of the SolidFire array in a Platform9-managed cloud.
Platform9 CEO and co-founder Sirish Raghuram reckons the biggest inhibitors to ubiquitous OpenStack adoption are deployment complexity and maintenance. A SolidFire-fueled Managed OpenStack offering from Platform9 sorts that out, he claims, with "efficient consolidation of mixed workloads across VMware vSphere and KVM." And soon Docker.
Potential customers may also be concerned about walking away from existing proprietary enterprise data center stack deployments, with which they are comfortable, and taking on a relatively unknown and untested full stack, open source offering with the associated need for an in-depth involvement.
If suppliers' marketing hot air can raise the steam level enough to get the OpenStack train, then its transition to real world deployment is assured. Platform9 and SolidFire will both be exhibiting at VMworld in San Francisco from August 30 to September 3; booth 339 for Platform9 and booth 929 for SolidFire. ®
Sponsored: Becoming a Pragmatic Security Leader