T-Mobile US CEO calls his subscribers thieves, gripes about 'unlimited' limited tethering
U ok hun?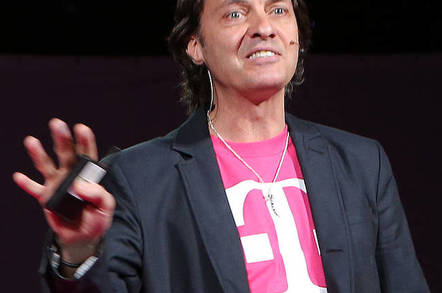 T-Mobile US CEO John Legere launched a tirade Sunday over subscribers who make heavy use of tethering on his network.
Legere said his company will tell 3,000 customers that they face having their "unlimited" mobile broadband plans cancelled if they don't stop circumventing T-Mob's limits on LTE tethering.
Under the T-Mobile US "unlimited" plan, customers are allowed to download 7GB a month when tethering their LTE phone – in other words, turning it into a wireless hotspot to connect a laptop or other PC to the internet over the phone network. Once the limit is reached, T-Mobile US reduces the network speed.
According to Legere, some users have modified their handsets to not report tethered data, allowing them to access full LTE speeds with no limits on data. In short, Legere is angry that customers are gaming his company's "unlimited" data plan to get unlimited data, in some cases as much as 2TB per month.
"This week, I am taking aim at a select group of individuals who have actually been stealing data from T-Mobile," said Legere.
"If their activities are left unchecked, their actions could eventually have a negative effect on the experience of honest T-Mobile customers. Not on my watch."
According to Legere, the bad actors account for "1/100 of a percent" of T-Mobile's customers, but nonetheless are capable of reducing LTE broadband speeds across the board for all users.
As of Monday, T-Mobile US said it would be using detection tools to spot when customers are circumventing data limits. Those who are spotted trying to hide their tethering traffic will receive a warning and, if caught again, will have their LTE plan reduced to T-Mobile's "entry level" plan.
"I'm not in this business to play data cop, but we started this wireless revolution to change the industry for good and to fight for consumers," Legere said.
"I won't let a few thieves ruin things for anyone else. We're going to lead from the front on this, just like we always do."
T-Mobile has put up a support page to fully explain the new policy. ®
Sponsored: Practical tips for Office 365 tenant-to-tenant migration