Computacenter CEO: Currency headwind? Yep, that hurt alright
But Brit sub strikes back to steady top line, and RDC sale beefs up profits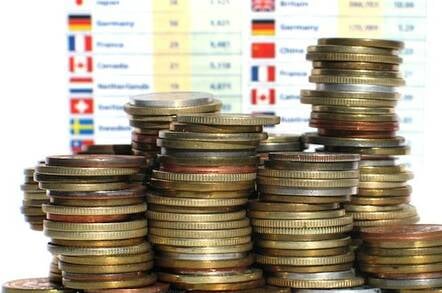 For a business, not losing sales ground in these uncertain economic times might be considered something of an achievement in itself. If so, Computacenter bosses will be downing celebratory doubles this morn.
In the half year to 30 June, the services-based reseller reported sales of £1.44bn – flat compared with a year ago, but up 6.5 per cent in constant currency. The firm has ops in Germany, France and Belgium so the gains in the UK were tempered by the impact of forex conversions.
Across the group, Computacenter's tech services edged up 0.4 per cent as reported (or up 6.3 per cent in CC) to £489.2m, and product sales increased 0.1 per cent to £948.8m, up 6.6 per cent in CC.
Colourful CEO Mike Norris said trade was in line with forecasts, "despite the currency headwinds", but a number of one-off gains, largely the sale of recycling arm RDC, put profits ahead of expectations.
In the UK, adjusted revenue – excluding the contribution from RDC – jumped 5.5 per cent to £688.7m; services revenue was up 9.8 per cent at £263.7m, including a 9.5 and 10.6 per cent leap in managed and professional services, respectively.
The largest UK managed service customer renewing a five-year licence in the quarter was among the wins, and professional services were beefed up by customers upping spending in data centres
Workplace equipment sales – PCs – reduced compared with last year when WinXP migration projects were raining down on Computacenter, but this was more than offset a ramp in data centre and networking upgrades. The product unit grew 3.1 per cent to £425.1m
The German subsidiary grew 1.7 per cent as reported to €731.2m, up 14.1 per cent in CC. Services decreased seven per cent to €253.7m but this was only due to the forex impact. Product sales grew seven per cent to €477.6m.
In France, Computacenter's sales fell 17.8 per cent to €259.3m with product and services wins down. And in the small Belgium ops, revenue as reported dropped 5.5 per cent to €33m.
Gross profit for group came in at £185.5m, up marginally from £184.5m in the corresponding period in 2014. Operating expenses were clipped to lift operating profits to £29.4m, up 14.8 per cent.
Profit before tax was £70.6m including £42.5m from the sale of RDC, and finance costs and benefits. Excluding the RDC sale, pre-tax income was £29.06m, versus £25.5m in H1 2014. Net profit was £21.5m, up from £18.1m. ®
Sponsored: Minds Mastering Machines - Call for papers now open