Obi: These ARE the 'droids you're looking for
Former Apple CEO John Sculley presents us with a new hope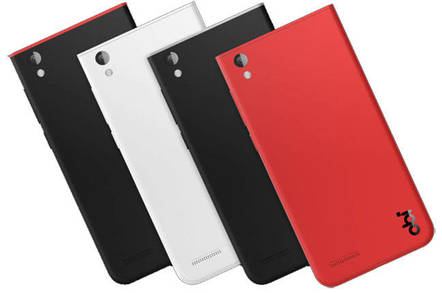 Former Apple CEO John Sculley is to launch a pair of Android phones. The SF1 and SJ1.5 are mid-range and low-end devices respectively from the company Obi Worldphone.
"Obi has taken the best of Silicon Valley – innovations in design, state-of-the-art technology and high standards for manufacturing – and fused them into beautiful, powerful tools at attractive prices," Sculley said. "Our efficient cost structure and broad distribution combine to present empowering tools that help our customers achieve their aspirations."
Designer Robert Brunner added: "With Obi we set out to create beautiful, original smartphones that go beyond consumers' expectations. From concept through to manufacturing, we've paid incredible attention to quality, materials and engineering to achieve the highest level of design."
Despite "SF1" standing for San Francisco" and every phone having "designed in San Francisco" written on the back, it looks pretty much the same as any other black rectangle phone. And Sculley lists Obi Worldphone as a Singaporean company on his LinkedIn profile.
Obi Worldphone, however, insists that it has "iconic industrial design" because it is unibody glass fibre with metal accents. The packaging does look interesting, and in markets like India – where second-hand value of the phone is important – packaging adds to re-sale value.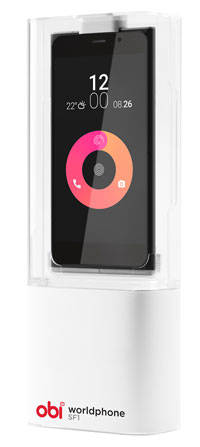 Nice box, but how well will it stand up to being shipped in bulk?
This is a budget phone aimed at youth in emerging markets. The company is very excited about its Obi Lifespeed custom user interface for Android "that unifies the software and hardware experience". The bits inside sound good. It's a Snapdragon 615 with (albeit limited) 4G/LTE capability, 13-megapixel Sony IMX214 Exmor camera sensor, 1080 x 1920 pixel screen, 443 ppi raised 5-inch display made of Corning Gorilla Glass 4, Dolby audio and dual microphones for noise cancelling, all running Android Lollipop.
The SF1 also features a long-life, quick-charge battery and easy-access, dual SIM slot with micro secure digital (SD) expansion. The SF1's suggested retail price is $199 for the 2GB RAM / 16GB internal memory version and $249 for the 3GB RAM / 32GB internal memory version.
The cheaper Obi Worldphone SJ1.5 has a name and specs which reflect the relationship between San Francisco and San Jose, best described by Tom Lehrer with "The breakfast garbage you throw into the bay, they drink at lunch in San Jose".
The SJ1.5 is a 3G smartphone with a MediaTek MT6580 Quad-Core processor. The 1280 x 720 5-inch screen is made from 2.5D curved glass built flush with the body, dual SIM slots, SD card slot and again it has a Lollipop operating system. Its suggested retail price is $129.
Software you didn't ask for includes AVG AntiVirus PRO, Swiftkey, AccuWeather, Clean Master and ColorNote.
"It takes a community to create a unique technology product and customer experience, and Obi has developed a strong, global eco-system of more than 20 companies – all contributing to inspire our Worldphone vision and make it a reality," said Neeraj Chauhan, Obi's co-founder and chief executive officer. ®