Deja vMware: 'Virty biz to buy its parent EMC' rumor just won't die
Could be on; could be off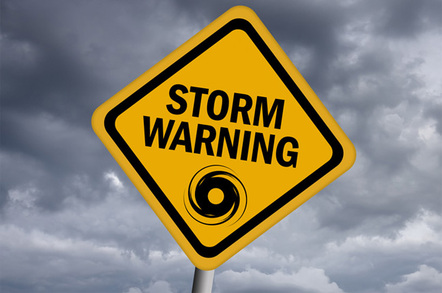 Rumors that VMware will buy EMC – which owns 80 per cent of VMware – are back from the dead. And just in time for VMworld 2015, to be held next week in San Francisco.
The last time around this particular block, we heard that EMC could buy up the 20 per cent of VMware it didn't own – or VMware could buy EMC in a so-called downstream merger. Both moves would somehow unlock the value hidden inside EMC and get its share price up, directly (EMC buying VMware) or indirectly (VMware buying EMC).
Activist investor Elliott Management, which is EMC's fifth largest shareholder, isn't happy with EMC's stock price and is demanding change: if either acquisition happens, Elliott could wait for a price rise, sell its stake in EMC, take a hike, and sink its fangs into some other victim.
The hedge fund has a standstill agreement with the EMC board that ends on September 1, after which it can start agitating away again for a shakeup.
This VMware-buying-EMC idea went quiet, especially when VMware CEO Pat Gelsinger was reported to be antithetical. But now the EMC Federation board is apparently reexamining the idea of letting VMware gobble it up. We're told several things:
VMware boss Gelsinger proposed the idea rather than opposed it.
EMC supremo Joe Tucci needs to retire; he's 68 and stayed on several times when succession problems couldn't be solved.
Tucci prefers EMC buying VMware to the downstream merger idea, as he thinks the Federation is better together.
Elliott Management would prefer a VMware sale, but would support a downstream merger.
VMware would issue $50 billion of new shares, and exchange some of them for EMC shares.
EMC shareholders get the rest, along with cash from a new $10 billion debt facility.
Five of VMware's nine directors, including Tucci, sit on the EMC Federation board and, if they vote together, have control.
EMC, VMware, and Elliott Management declined to comment; no surprise there.
We pondered about the ramifications of VMware buying EMC here, and said that basically more change would have to follow a downstream merger. That perception hasn't changed.
It seems pretty clear that deliberate leaking is going on, and potentially at a high level, such as a board member's direct report. People on the Federation, EMC II, and VMware boards will be getting pissed off with this. ®
Sponsored: Minds Mastering Machines - Call for papers now open