Boffins unwrap honeybee black box recorder project
Flight of the RFID tag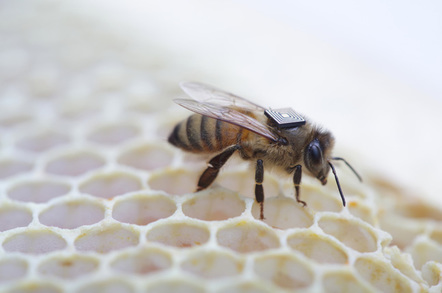 Scientists want to electronically tag the world's honeybees in a bid to understand the mass death of entire populations.
The Commonwealth Scientific and Industrial Research Organisation (CSIRO) in Australia has called for a global project fitting bees with micro-sized RFID chips to gather critical data.
Data would be harvested to generate 3D models of the bees' activities whilst on the move.
The goal is to follow the bees' behavior and identify their response to factors that might generate stress, thereby affecting their health and attempts to pollinate plants.
CSIRO made the call Tuesday having already successfully tagged more than 10,000 bees in Hobart, Tasmania.
Australia's national science body says it now wants to turn this into a global effort it's leading, called the Global Initiative for Honey Bee Health.
Data generated by the study would be used by scientists, beekeepers, primary producers, industry groups and governments.
Professor Paulo de Souze, CSIRO science leader, compared the tags to acting like the black-box flight recorder on an aircraft, recording critical information.
"The tiny technology allows researchers to analyse the effects of stress factors including disease, pesticides, air pollution, water contamination, diet and extreme weather on the movements of bees and their ability to pollinate," de Souza said in a statement.
Boffins want to harvest critical environmental data in and around the bees' home hives, such as humidity, temperature and solar radiation, too.
The group pioneered the work using a micro-sized ATOM-based, open-source stack.
Data from the bee-mounted RFID tags was harvested using Intel's Edison Breakout Board kit on a postage-stamp-sized reader mounted inside hives.
The platform includes Intel's Atom system on a chip with integrated Wi-Fi and Bluetooth, dual-core CPU and runs Intel's 22nm Silvermont micro architecture.
Also, the Arduino open-source Breakout board, with micro USB, SD card connector and digital and analogue in puts and outputs.
Software comes courtesy of Yocto Linux, Arduino, Python, Node.js and Wolfram.
The Intel reader was transmitted to CSIRO's Data Access Portal, where it was dissected using methodologies developed during the Tasmania push.
CISRO reckoned it picked Intel's Edison Board kit for its reliability, small size, flexibility in programming and customisation, and low power consumption.
Bee numbers have fallen 40 per cent in the US since 2006, 25 per cent in Europe since 1985, and 45 per cent in the UK since 2010.
The cause of the fall is unclear but theories range from climate change to use of chemical pesticides in agriculture. ®
Sponsored: Webcast: Why you need managed detection and response