3D-printed robot hand grabs Dyson award for UK
Robotics graduate within touching distance of £30,000 prize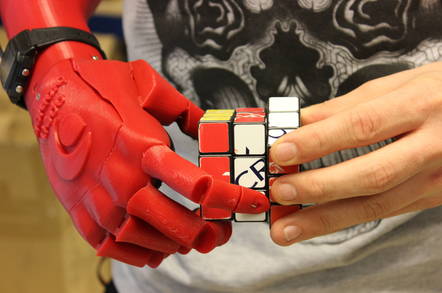 A 3D-printed robot hand for amputees has won the UK heat of this year's James Dyson Award, which recognises university graduate inventions.
Joel Gibbard, a 25-year-old robotics graduate from Plymouth University, created a prototype which can be assembled in 40 hours for under £1,000. Advanced prosthetics can cost anything from £3,000 to £60,000.
The low-cost robotic hands are designed to perform the same tasks as expensive, advanced prosthetics, including individual finger movement through the use of electromyographical sensors which are stuck to the amputee's skin.
Gibbard, who works at Bristol-based Open Bionics, will receive £2,000 and will advance to the international stage of the competition.
He said: "We've encountered many challenges in designing our hands but the reactions of the individuals we help fuels our perseverance to bring them to market. My aim is for Open Bionics to disrupt the prosthetics industry by offering affordable prosthetics for all."
James Dyson said: "3D printing has been used by engineers as a prototyping tool for decades, but Joel is using it in a new way to provide cheaper, more advanced prosthetics for amputees. It shows how bold ideas don't need a big budget and if successful his technology will improve lives around the world."
The 2015 international winner will be announced in November and will receive a prize of £30,000.
An inflatable incubator for use in poor countries won the 2014 award, which was designed by James Roberts, a 23-year-old University of Loughborough graduate. ®