US air force general teaches Aussies how to counter cyber threats with intelligence
Cyber security expert joins HP roadshow in Sydney and Melbourne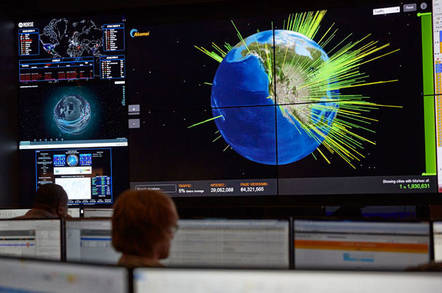 Promo Have you ever wondered how the bad guys think? HP wants to show you exactly how they think at its Security Innovation Tour.
HP's security team will be touching down in Sydney and Melbourne next month for a brace of half-day events showing you everything you need to know about the bad guys out there - as well as the bad guys inside your organisation.
Leading the charge is the US Air Force's former head of cyber security, Major General Earl Matthews.
He'll be helping you move beyond intuition and guile in countering the bad guys, to exploiting big data and behavioural analytics to spot threats both outside and inside your organisation.
This is all part of HP's three part approach to security: predict and disrupt; reduce the duration of incidents; and share security intelligence.
HP research shows that the most likely threats may not be what and where you think. The most common type of vulnerability was web server misconfiguration, while the number of web apps exhibiting one or more flaws jumped from 72 per cent in 2013 to 86 per cent in 2014.
So, while you might be justifiably concerned about the threat from the likes of North Korean or Iran, you might have bad guys in your organisation who don't even know they're bad guys.
The roadshow will be hitting Sydney's SMC Conference Centre from 8.30am to 12.30pm on September 9. On September 10 it will touch down from 8.30am to 12.30pm, at Melbourne's Stamford Plaza Hotel.
You can register and get more details by clicking here.®
Sponsored: How to Process, Wrangle, Analyze and Visualize your Data with Three Complementary Tools