Auto erotica bonk shocker: ja das ist gut, say 56% of Germans
Get your motor moaning, head out on the highways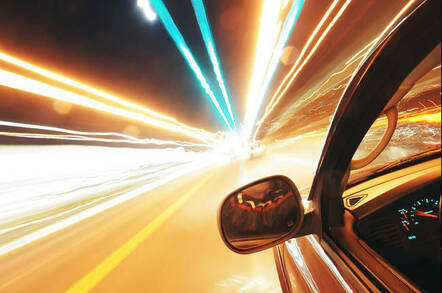 For some the car is a functional thing that gets them from A to B, for speed demons getting behind the wheel is like a drug, but for many folk in Germany going for a ride has an entirely different meaning.
According to the mother of all silly polls, 56 per cent of our Saxon cousins have admitting to bonking in their vehicles - that's 45.5 million individuals, or 22.75 million couples. Or 15.1 million threesomes. Surely not.
A further one quarter confessed to getting on the job on more than one occasion, according to the survey commissioned by Fahrerbewertung - a site that allows people to rate others driving skills or lack of them.
"Sex behind the wheel seems to be a big turn-on for many people," said Arno Wolter, a rep for the online portal.
"However, only ten per cent of couples said that they had performed such activities in a parking lot. One should hope that the rest of the people were not all driving while they engaged in sexual activity."
Well, the Germans are renowned for their efficiency, why waste time in bed when they can get-it-on en route to a business conference or some other such work related activity.
The most randy Germans are, the poll stated, from Saarland and Hessen, where 77 and 69.9 per cent of those questioned respectively, confirmed they had partaken in car-based copulation.
It seems age is no barrier to steamy sessions in vehicles either, with 50 to 60 year-olds just as likely to enjoy a bit of slap and tickle on the back seat as 20 to 30 year-olds.
In a plea for common sense, Wolter urged drivers to "avoid all distractions when driving".
Well, quite. ®