Steady she goes at Brocade
Fibre Channel comes good again for storage biz, and it's all the customers' fault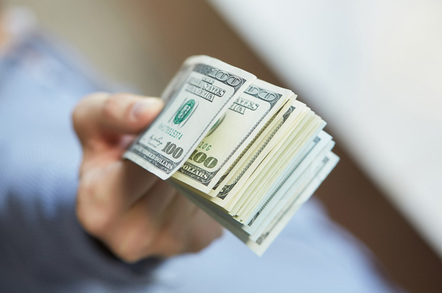 Sustained Fibre Channel revenues were the bedrock of Brocade's latest results - again.
In its third 2015 quarter, ended August 1, Brocade reported revenue of $552 million, up one per cent year-over-year and on a sequential basis.
Net income of $91.7 million represented a 5.4 per cent year-on-year and a 19 per cent bounce sequentially, so it seems Brocade execs are running a satisfyingly tight ship.
CEO Lloyd Carney said the bleedingly obvious thing in his prepared quote:
"I am pleased with our Q3 2015 financial results as we delivered improved profitability and higher revenue year over year."
With a little bit more detail he revealed IP Networking sales jumped 16 per cent and continued to outpace the market average, as both both service provider and US federal customers came good for the company.
"As the storage market evolves, our SAN business continues to demonstrate the vital role of Fibre Channel as customers connect both traditional disk storage and next-generation flash arrays," the big boss man claimed.
But actually the SAN business didn't do so well - Brocade reported a five per cent -year-on-year slide in SAN product revenues to $309m.
This was mostly due to "softer demand for embedded and fixed-configuration Fibre Channel switches, partially offset by growth in director revenue."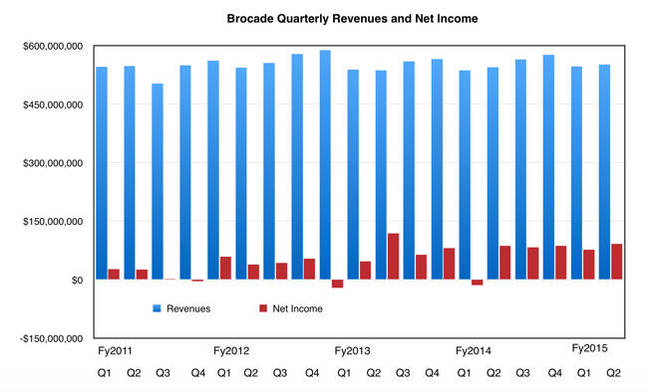 Brocade revenues and net income to Q3 fy2015.
Despite this Carney said sales came in "slightly above our expectations", which he concluded confirmed the "role" of Fibre Channel as customers "connect both traditional disk storage and next-generation flash arrays."
A Brocade results presentation deck showed a graph of Fibre Channel growth prospects in all-flash and hybrid arrays.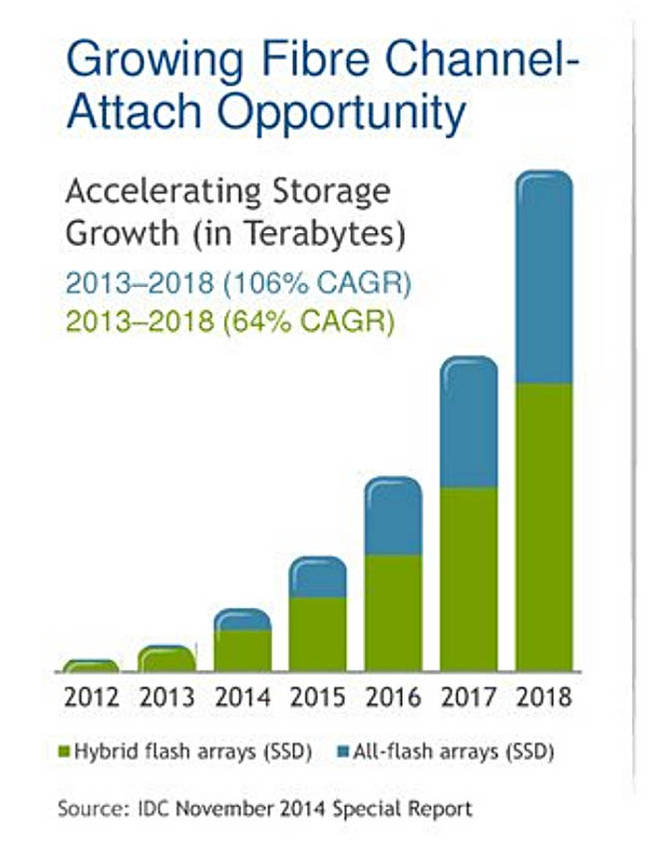 But this is indirect as it shows TB growth and not device growth. With, for example, 3D TLC flash - as used by Dell and Kaminario - capacity rises dramatically while device count can stay the same.
The IP networking business segment revneus came in at $154 million, with router sales up 35 per cent, switch sales up six per cent, and software networking sales up. The increased revenue year over year was primarily from service providers, up 43 per cent, and US federal, up 32 per cent, partially offset by a decline in enterprise revenue of 3 per cent.
A potential rise in NVMe fabric linking of flash-based primary data storage arrays to servers, points to loomimg market downsizing for both Fibre Channel and iSCI/Ethernet-connected arrays, which have a longer network round trip latency than PCIe-based NVMe.
But Fibre Channel is the gift that carries on giving. Brocade has announced a deal with Lenovo; its Gen 5 (16Gbit/s) Fibre Channel SAN switches are now being sold globally by Lenovo and channel partners.
Brocade is a decently-run mature business, tidily navigating the slowly changing currents of server-storage networking. Go with the (Open) flow guys. ®
Sponsored: Your Guide to Becoming Truly Data-Driven with Unrivalled Data Analytics Performance