NetApp falls into loss-making territory as yearly revenues drop 10 per cent
Kurian's first quarter is a dog, a big sweaty dog
"Exciting innovations" ahead
Rakers made a corrective note here: "NetApp's total capacity shipped increased one per cent year-on-year, marking the slowest growth we have seen and significant deceleration from the plus 23 per cent, plus 24 per cent, plus 30 per cent, and plus 16 per cent year-on-year in full-year Q1 2015, Q2, Q3, and Q4, respectively. The company did indicate NetApp's flash capacity grew 58 per cent year-on-year (accounting for less than two per cent of total capacity shipped)."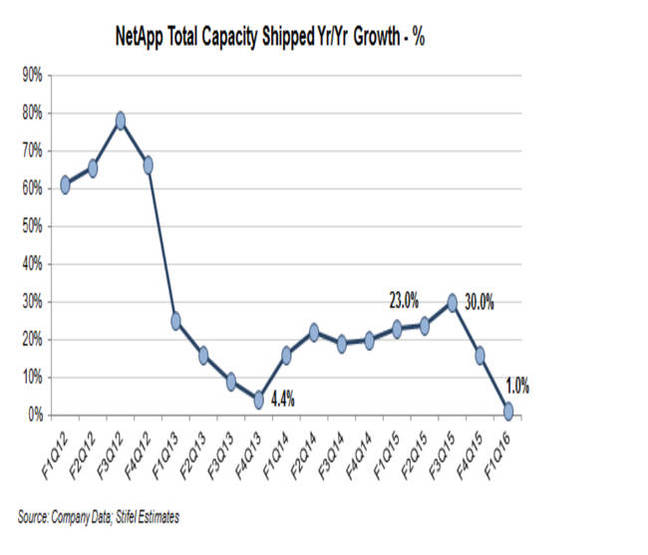 NetApp total capacity shipped trend. Stifel Nicolas chart.
The E-Series is also growing, with Kurian commenting that: "As we aggressively target [the web scale and analytic applications such as Hadoop and Splunk] part of the market, we see continued growth of the E-Series platforms with unit shipments up almost 50 per cent from Q1 last year."
FlexPod is still flying and "you can expect to see exciting innovations on FlexPod this year"
Overall, he said: "We expect that investments in Clustered ONTAP transitions, sales capacity and channel traction, combined with our shift to better address the industry trends, will deliver improving results over the course of this fiscal year."
This implies that a decline in 7-Mode ONTAP sales is the main problem, exacerbated by sales insufficiencies (capacity and channel traction), which NetApp is addressing.
CFO Nick Noviello confirmed the 7-Mode problem: "The decline in product revenue, due largely to the decline in ONTAP 7-Mode sales, was in line with our expectations and prior guidance."
He mentioned headcount reduction; "Our realignment actions resulted in a headcount reduction of approximately three per cent and a GAAP restructuring charge of approximately $27m in the quarter."
"We are confident that we're on the right path, but clearly have more work to do," said Kurian. "I will focus on driving disciplined portfolio management, streamline decision making for efficiency alignment and accountability and instill more rigorous inspection and corrective action for high performance execution."
We're told more details of how NetApp will change to become a growth company again will come next quarter as Kurian continues his deep dive into the company's affairs.
Did he get an easy ride in the question-and-answer session in the call? Mmmm, well, yes. It's a show-and-tell game as he's early in and is still working out the details of what to do. So far it's clear there are no major product direction changes in the offing. Instead we're seeing fine-tuning to get the good ship NetApp sailing closer to the wind and so increasing its efficiency as a business.
NetApp's start-up-style competitors will say C-Mode or 7-Mode doesn't matter; ONTAP is the past, NetApp is toast, and we are the future. NetApp says C-Mode IS the future and we're going to do very well, thank you very much.
Next quarter's revenues are expected to be between $1.40 and $1.50bn. That's six per cent down on the annual compare at the mid-point but a sequential increase due to the depleted product sales pipeline now being rebuilt.
A loss is not expected, which is a small mercy. This turnaround is not going to be quick, nor assured. ®
Sponsored: Detecting cyber attacks as a small to medium business