NetApp falls into loss-making territory as yearly revenues drop 10 per cent
Kurian's first quarter is a dog, a big sweaty dog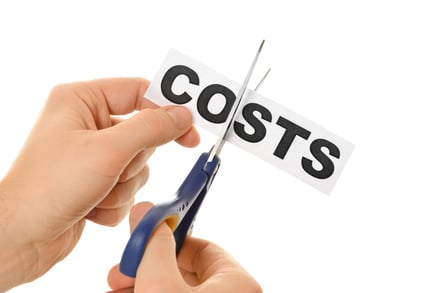 No wonder Tom Georgens had to go; NetApp's first fiscal 2016 quarter showed a $30m loss, its first for several years.
Revenue of $1.34bn was 10 per cent down on the year ago's $1.49bn, and 13 per cent down on the immediately preceding quarter. A year ago, profits were $88m. In the prior quarter they were $135m ... and now there's a big, fat loss.
By NetApp standards it is a disgraceful performance.
Stifel Nicolas MD Aaron Rakers points out that product revenue of $664.0m was down 25 per cent year-on-year, and 27 per cent sequentially.
Good points in the results (such as they were) included:
The revenue beat Wall Street expectations
Clustered Data ONTAP node shipments increased 114 per cent year-over-year; the thirteenth consecutive quarter of triple-digit growth
All-Flash FAS units grew 137 per cent year-over-year; the fifth consecutive quarter of triple-digit growth

Click image for larger version.
Now chairman and CEO George Kurian canned statement went like this:
"The IT industry as a whole is going through fundamental change as enterprises transform themselves with digital capabilities. Data is at the heart of these transformations and where NetApp has a profoundly important role to play with our differentiated vision for data management.

Our first fiscal quarter marks the beginning of a new chapter for NetApp.

In the next phase of our journey, we are pivoting to better address the changing industry, to improving our own execution and to enhancing value for our shareholders."
So that was aimed at rallying investors and NetApp's customers and employees. But what are the pivot details? In the earnings call Kurian talked about "aggressively pivoting towards modern architectures such as scale-out, software-defined flash, converged and hybrid cloud".
He talked about costs: "We need to operate the business with a greater level of discipline and to align resources against our most important priorities."
We must manage the business to drive efficiency and profitability from the mature parts of our portfolio so we can afford investment in emerging high-growth areas to deliver innovation ahead of the market, drive increased awareness and expand our footprint.
How is NetApp going to change? Rakers thinks it needs to cut its head count by 1,000 positions to lower costs.
Kurian thinks the storage silo-melding data fabric idea – ONTAP being a storage and data managing facility for data on-premises and in the cloud – is the main thing. "We're the only company that can help customers manage their data seamlessly across multiple cloud architectures and provide the scale needed to accommodate the exponential data growth generated by the digital world. This is what I see as our big opportunity," he added.
He thinks there is "a reduced opportunity in the traditional storage market, but at the same time, growth in new areas such as scale-out storage, software-defined flash, converged and hybrid cloud".
Trad storage for him is 7-mode ONTAP arrays. "As customers transform their IT environments, they are reducing their spend on traditional storage, which has put pressure on our ONTAP 7-Mode business. The 7-Mode storage operating system was shipped in only 35 per cent of FAS units in the quarter, down from roughly 75 per cent a year ago."
Meanwhile, "clustered ONTAP was deployed on 65 per cent of the FAS systems shipped in Q1 up from roughly 25 per cent a year ago [and] we are migrating our installed based customers to Clustered ONTAP and gaining new customers in competitive environments."
"The number of customers using Clustered ONTAP grew by more than 130 per cent in Q1 from Q1 a year ago. The fastest growth was in new to NetApp customers, which grew 225 per cent," he added.
That is encouraging and will enable NetAppers to reject any idea that it is a spent force.
There is a lot of scope, Stifel MD Aaron Rakers pointing out: "Clustered ONTAP is currently deployed across roughly 15 per cent of the company's total customer installed base, up from 11 per cent in the prior quarter."
That implies there has been considerable resistance yo migrating to C-Mode ONTAP. If, as Kurian says, C-Mode is the future the existing customers don't seem to want it.
Flash is obviously also a focus,and we "saw a strong uptick in All-flash FAS sales momentum during the quarter ... We had significant and growing numbers of competitive wins against established and emerging flash-only vendors," Kurian said.
Sponsored: Beyond the Data Frontier