Malcolm Turnbull punts football RIGHT INTO YOUR FACE
Bill tabled to remove restriction on high definition broadcasts by Australia broadcasters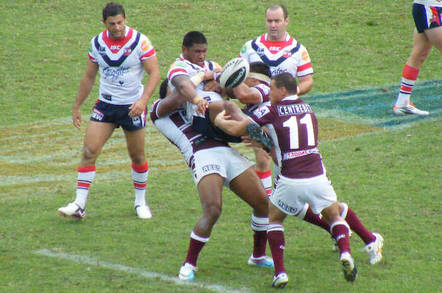 Australia's Communications minster Malcolm Turnbull yesterday introduced the Broadcasting Legislation Amendment (Primary Television Broadcasting Service) Bill 2015, an amendment to 1992's Broadcasting Services Act that will remove the regulation requiring Australian television stations to broadcast in standard definition on their main channels.
Australia's commercial television licence-holders are permitted to broadcast three channels, but the "primary" channel must be shown in standard definition. The Bill proposes, as explained in its explanatory memorandum, to make it possible for broadcasters to use either standard or high definition broadcasts.
The main target of the change is live sport, one of free-to-air television's few remaining reliable eyeball-attractors. So reliable, in fact, that Australia's networks have in recent weeks signalled their intention to spend hundreds of millions of dollars a year for the right to broadcast Australian Rules and Rugby League, the nation's dominant winter sports. Turnbull alluded to those deals in his speech to Parliament about the amendments (helpfully posted to his personal web site) by saying "There is no form of television programming where high-definition transmission is more important than live sports. It does make a very big difference, as honourable members would understand."
The Bill doesn't mandate HD broadcasting for anything, which is welcome because Australia's Channel 9 still shows the 1972 family drama Skippy in the wee hours so that insomniac children can continue to enjoy the heroics of the titular Kangaroo in the PAL format for which it was shot.
The requirement to broadcast in SD is an artefact of the early days of Australia's move to digital television. As the memorandum explains, it made sense to impose the regulation at the time "to ensure that viewers would have access to at least one digital channel per broadcaster. At the time not all televisions and set-top boxes were capable of receiving HD content."
Australia's government is now satisfied that the national television fleet is ready for HD-only broadcasts, should broadcasters wish to choose the format for football or any other program.
As football matches regularly feature in the highest-rating programs of the year, broadcasters will likely take advantage of the new regulations as soon as is possible, putting the action right in your face. ®