French say 'non' to Netflix, reveals entertainment report
Massive Gallic digital shrug, while Brits go OTT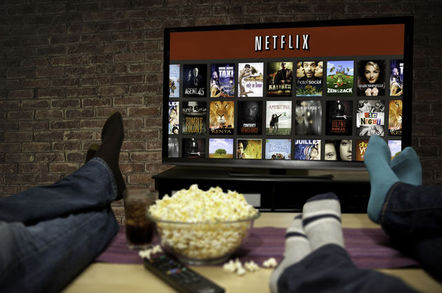 French consumers prefer to stick to good, old-fashioned live telly rather than those new-fangled digital services such as Netflix, a report has revealed.
According to the reserch – carried out by Futuresource Consulting – 75 per cent of French respondents say live TV is still their primary viewing choice. The Beeb needs to be on its toes, though: in the UK that figure has dropped to 59 per cent.
Taking up the slack are so-called over the top (OTT) services. Although still only half the US market share, more than 20 per cent of UK respondents said they take Netflix, while 10 per cent have Amazon Prime Instant Video.
The study, which is in its seventh year, examined the viewing habits of people in the US, UK, Germany, France, Australia and Canada.
Although cost is still the main reason for people dropping pay-TV services in all countries, more than a third of pay-TV viewers fork out for an added premium movie package, while more than 40 per cent take a sports service – in the US, 57 per cent of viewers add on the throwing, kicking or running-related content.
Connected TV is increasingly popular, with the report showing that more than 30 per cent had such a service, while 69 per cent accessed music or video entertainment services at least once a week, up from 63 per cent in the previous report.
According to Futuresource, paid-for streaming music is also on the up – the number of subscribers has approximately doubled in all countries in the last year, with Spotify the clear leader.
"The evidence presented suggests that paid-for users are driving the overall streaming base higher. Germany is the one country which has 'broken out', as those listening to any streaming service hits 31 per cent, up from 21 per cent."
"Finally all types of music consumption above have shown growth, apart from music downloading, which was stagnant in all countries apart from the US," said the report. ®
Sponsored: What next after Netezza?