ZTE Nubia Z9 Mini: The able Android smartie the company won't sell you
Chinese mid-ranger offers impressive bang for your buck
Talkin' loud
The Nubia Mini has an IPS display with a pixel ratio of 441dpi. That's actually a higher dpi figure than the Nubia 9 or Nubia 9 Max. It's a quality screen too. Viewing angles are wide, colours vibrant and there is plenty of brightness on tap for outdoor use. There's only a single loudspeaker, tucked away at the bottom next to the microUSB port, but it is impressively tuneful and loud.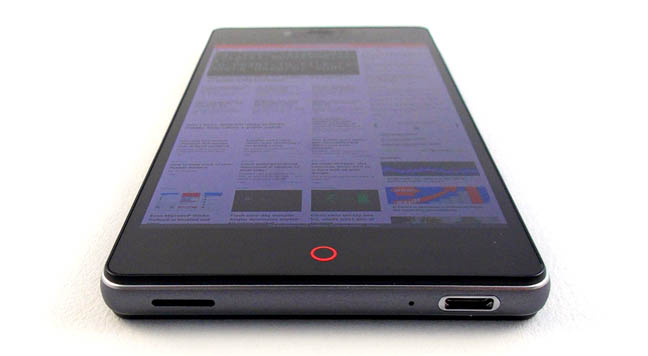 Speaker at bottom is impressive in terms of both volume and reproduction
Measuring up at 141.3 x 69.8 x 8.2mm and weighing 147g the Nubia Mini isn't uncommonly small (the display only takes up a relatively low 69 per cent of the fascia area), thin or light but extra bulk and weight are the prices you pay for a solid body and a larger battery.
And that larger-than-average battery is worth having. A full charge regularly got me through two days of use. Even under intensive use – watching HD movies, playing games like Modern Combat 5: Blackout and browsing the web, you'll get a full 24 hours from a charge and still have juice left over for quaint activities like making a phone call.

Not an unusually slim device but solid and with a capacious battery
The software running the Nubia Mini is as up-to-date as makes no difference, Android Lollipop 5.0.2 being only a small step from the latest v5.1.
ZTE has been busy tinkering with Google's mobile OS to create what it calls Nubia OS, which on the Mini is at v2.8 rather than the v3.0 used on the Nubia 9 and Max. If there is an update coming, it didn't show up during my time testing the Z9 Mini.
The big change with the Nubia interface is the absence of an app tray, which makes everything look rather iOS-like. There's also a fixed panel to the left of the home screen with a selection of direct-launch camera filters.
If you don't like the Nubia launcher you can replace it with any third-party launcher or do what I did and install Google's own Now Launcher which returns the Android UI to a near-stock configuration.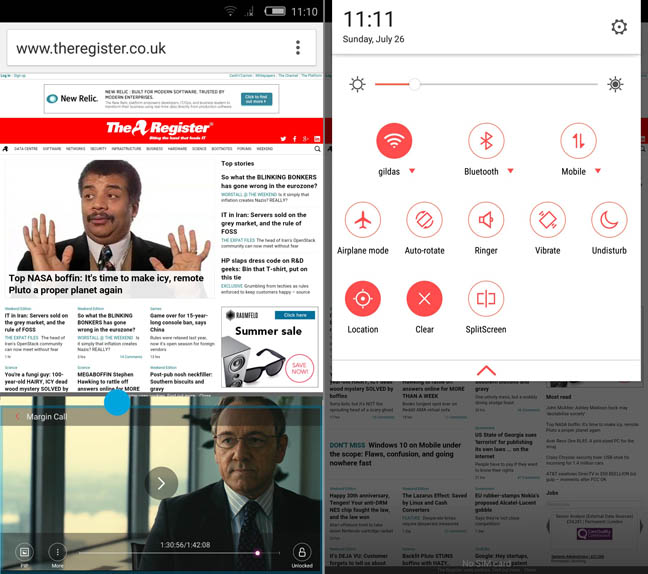 Split screen mode and settings pull-down
ZTE has added some useful features to Android, like the ability to run windows side-by-side each with a different app in each. Unlike Samsung's similar feature, ZTE's version doesn't work on an app-specific basis, but rather runs two instances of the desktop so you can use any app in either window. It's not as smooth as Samsung's system, but it is more versatile.
Sponsored: Detecting cyber attacks as a small to medium business