Budget UHD TVs arrive – but were the 4Kasts worth listening to?
Haters begone! You can now buy 'em with your bangers and mash
The China syndrome
Of course, by November the choice in low cost 4K screens might well have mushroomed. Chinese TV maker Hisense has a veritable terracotta army of UHD televisions ready to march. The brand may not ring bells with the average UK shopper, but it's a formidable operation. The company is the fourth largest set manufacturer in the world and has been market leader on its own turf for years.
Howard Grindrod, deputy managing director of Hisense UK, told me: "The strapline we're using is Premium brand, Affordable Prices."
Exactly how affordable remains to be seen. Recent devaluations of the Chinese yuan could see the cost of models plummeting.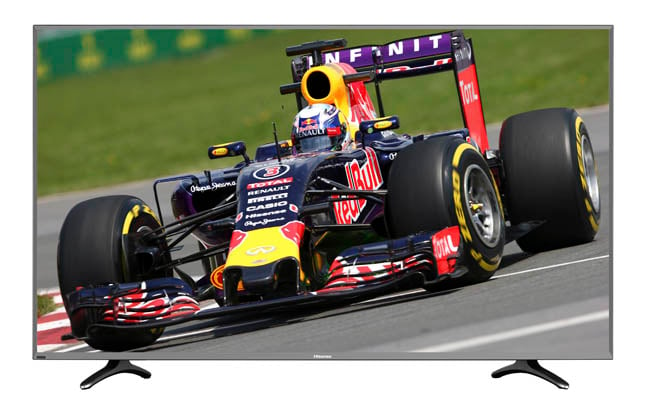 HiSense panels abound, though you may never have knowingly viewed one
Not that Hisense wants to appear overly aggressive. "This isn't about us taking on other TV manufacturers,' says Grindrod. "I don't like to big us up too much. We want to be seen as a brand that has serious intentions in the market we're in. We're not here to attack other brands, we just want to launch great product."
Hisense has been punting low cost screens into Germany, Italy, Spain, and to a lesser extent the UK, but is saving its real muscle flexing for the autumn, when it will introduce 4K UHD screens in 40-, 43-, 50-, 55-, 58- and 65-inch screen sizes. Most will be flat, but there's also 55- and 65-inches curved options due too. This formidable line-up will be unveiled at IFA, the Berlin tech extravaganza which runs in early September.
The quality should be high. Hisense provides 4K glass to posh German TV maker Loewe. What we don't know yet is just how compelling its UI and Smart offerings will be.
We do know though that Hisense's pockets are enviably deep. To help build brand awareness, the company has signed a long term sponsorship deal with the F1 Infiniti Red Bull racing team. "It's a good fit for us,' says Grindrod. "Formula One is a high-tech, International sport and we're a high-tech International brand."
It's also acquired Sharp America in a deal said to be worth $23.7m. The move grants Hisense rights to use the Sharp name in both North and South America, as well as the Sharp TV factory in Mexico.