PALE, MALE AND STALE: Apple reveals it has just ONE black exec
And she's not even a techie. Oh dear, Cupertino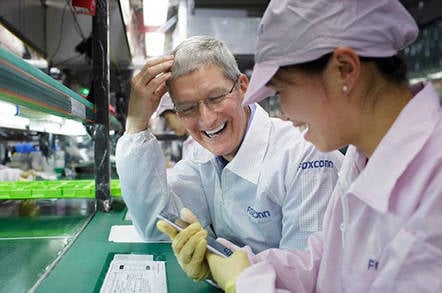 Apple's latest diversity report shows that of the fruity firm's 83 executives, senior officials and managers, 72 are white and 60 of those are male. A look at Apple's executive info biography page shows a sea of white male faces.
Of the eighteen executives pictured, only three are female – one of whom, Denise Young Smith, of human resources, is black. There are no black men. All technical roles are filled by white men.
The report had to be prised out of Apple, which repeatedly refused to reveal the figures despite being required to do so by the US government. The Equal Employment Opportunity report (EEO-1) was eventually published yesterday.
Apple only gave figures for July 2014.
"In the past year we hired over 11,000 women globally, which is 65 per cent more than in the previous year," Cook said, didn't back this up by releasing the filed 2015 figures.
Significant pressure was put on Apple to release its diversity information by firebrand preacher the Reverend Jesse Jackson at the last Apple shareholder meeting, and one would have thought that if real progress had been made, particularly in senior positions, Apple would have been keen to share the 2015 figures.
What the released report shows is that the diversity problems run deeper, with eight of the eleven non-white executives, managers and senior officials being Asian, one Hispanic and two black or African American. This represents 2.5 per cent of the cohort, while 13.6 per cent of Americans are African-American.
Cook acknowledged the discrepancy, saying "Some people will read this page and see our progress. Others will recognize how much farther we have to go. We see both."
Perhaps Apple thinks "diversity" is something to do with having two antennas. ®