ZUCK OFF: Facebook nixes internship after student embarrasses firm
Classy company culls Harvard undergrad's offer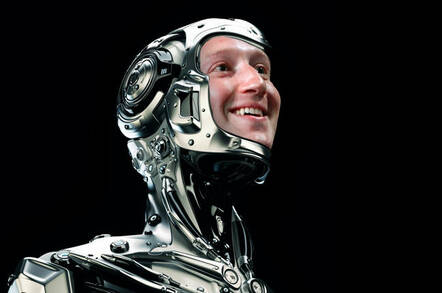 Aran Khanna, the Harvard student who disclosed Facebook Messenger's location-spaffing qualities, had his internship offer withdrawn by Zuckerberg and Co because he – not they – had failed to appropriately consider users' privacy expectations.
Khanna, a computer science student at Harvard, wrote a Chrome extension which exploited Facebook Messenger's inadvertent ability to reveal users' location data back in May.
Displaying an admirable commitment to the ethics of disclosure, Khanna noted that he was due to begin an internship with the ZuckerBorg at a later date this year.
Facebook, however, displaying extreme chutzpah, told Khanna that it had withdrawn his internship offer. The reason? His blog post did not reflect the "high ethical standards" which it expects of its interns.
As Khanna wrote: "According to the email [sent by Facebook], the privacy issue was not with Facebook Messenger, but rather with my blog post and code describing how Facebook collected and shared users' geo-location data."
The volte-face was revealed in a case study titled "Facebook's Privacy Incident Response: a study of geolocation sharing on Facebook Messenger" which Khanna published in Technology Science, which recently published another case study into the care.data omnishambles.
Khanna's case study suggested that Facebook's past behaviour suggested that "there might not [have been] significant public concern" about the location data-leaking until his extension and blog post garnered media attention, and Facebook subsequently remediated the issue.
Facebook Messenger posts from before the update continue to reveal location data, according to Khanna.
"What seems to have made the difference was transparency," he wrote. "My extension and blog post made the data collection and sharing practice real and transparent. The resulting public attention, with over 85,000 downloads of my tool, more than 170 news articles, and 3.6 million Twitter users exposed to my posts through tweets and retweets, seemed to motivate Facebook to react."
Facebook was not happy with Khanna when The Register asked the company for its take on his case.
"This is revisionist history that conveniently omits a few important points," raged a Facebook spokesman. "First, we began developing improvements to location sharing months ago, based on input from people who use Messenger. Second, this mapping tool scraped Facebook data in a way that violated our terms, and those terms exist to protect people's privacy and safety. Despite being asked repeatedly to remove the code, the creator of this tool left it up. This is wrong and it's inconsistent with how we think about serving our community."
Shots fired! ®
Sponsored: Practical tips for Office 365 tenant-to-tenant migration