Exploding Power Bars: EE couldn't even get the CE safety mark right
Unless CE stands for Cockup Extremely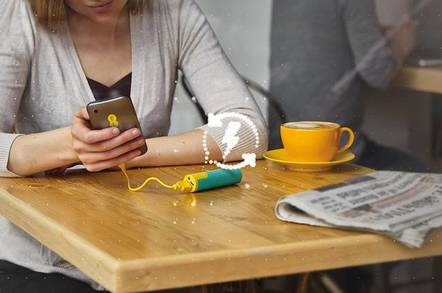 Exclusive EE failed to label its "Power Bar" phone charging devices with the correct marking to show that the product complied with European safety directives, The Register has learned.
The embarrassing cockup comes after we revealed that EE management had been warned about safety risks with its Power Bar, ahead of its launch in April this year. Since then, 1.5 million such devices have been dished out for free to the company's customers – but a recall affecting hundreds of thousands of units is now under way, after a Power Bar exploded, injuring a 26-year-old medical student.
Late last month, Katy Emslie suffered burns to her hands and spent five hours in A&E and had plastic/re-constructive treatment after her Power Bar, which was charging from her laptop, blew up in the middle of the night while she slept.
That incident eventually prompted EE to recall around 500,000 Power Bars. The UK's largest mobile operator said that only some of its chargers posed a potential fire risk and blamed a faulty batch of models labelled "E1-06."
El Reg saw internal documents that made it clear that serious safety concerns regarding the Power Bar had been raised at the company before the device was launched. However, when EE was quizzed by us, it had this to say:
"We strongly refute any suggestion that safety concerns were ignored or dismissed without careful consideration. The product was subject to a rigorous testing process by our safety and products teams, and all EE Power Bars meet EC electrical safety standards."
Now, it has come to The Register's attention that the CE marking (which stands for European Conformity) affixed to the device doesn't adhere to the specific European Union rules.
Those measures detail the required layout of the CE marking, but we've discovered that EE failed to comply. Furthermore, we're told that the labelling cockup has been spotted on batches of the device that haven't been recalled.
Worse still, EE was first told about the dodgy CE marking back in April – not long after the product was launched as part of a big marketing blitz.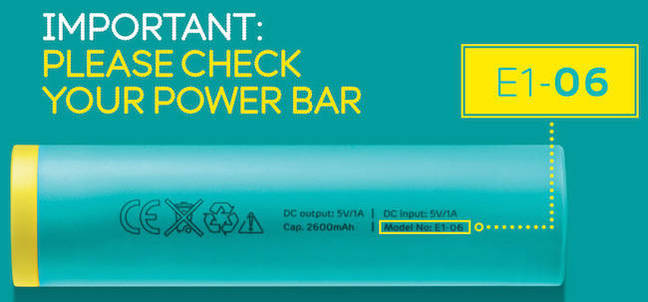 Spot the difference ...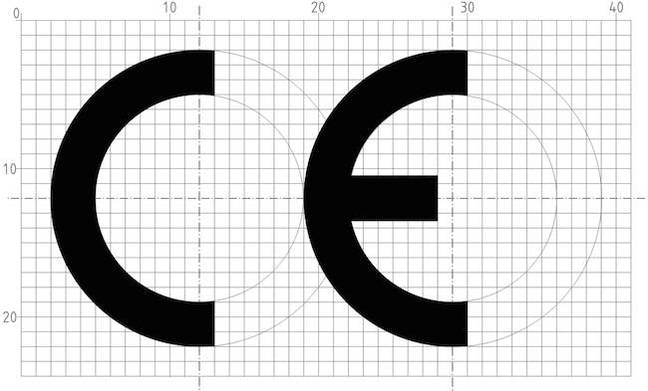 ... And this is how the CE marking should appear on products
EE insists Power Bars meet EC electrical safety standards, despite concerns
EE had promised "never-ending power" for its millions of customers by offering them free Power Bars, which – prior to the programme being mothballed following the recall – allowed them to collect the chargers from the company's retail outlets. The devices could then later be returned to be recharged, swapping for a freshly-charged Bar.
Early in the project, EE carried out a risk review through its own safety and sustainability team. It claimed risks had been assessed and that the product met legal requirements, including European battery regulations. But it is unclear how detailed that exercise was.
Specific concerns raised within EE in the documents seen by The Register included variable quality in the cells used in manufacture, a risk that the Power Bar could easily be overloaded and catch fire if used with a faulty cable, lack of measures to ensure that Power Bars circulating among EE's users and shops would remain within their safe lifespan, a risk that bars being charged en masse in shops might suffer "thermal runaway" and burn down buildings, and other dangers.
In light of those serious safety concerns, EE will undoubtedly be red-faced about this latest blunder with its controversial Power Bar devices.
El Reg pressed the mobile carrier for answers about its CE marking gaffe. We asked the company if it would let us take a look at the so-called "Declaration of Conformity" paperwork for the Power Bar, which would have been required to be created prior to any CE marking being applied to the product.
However, EE declined to provide us with that information. It also failed to explain how the labelling error had occurred in the first place. Why, for example, was it not spotted during the operator's "rigorous testing process"?
Instead EE offered up this tight-lipped statement to El Reg:
CE markings were corrected.
The UK government has warned firms of the pitfalls of slapping inaccurate CE markings on products. It said:
If an enforcement body finds your product does not meet CE marking requirements, they will often provide you with an opportunity to ensure it is correctly CE marked.

If you fail to comply with this, you will be obliged to take your product off the market. You may also be liable for a fine and imprisonment.
We've kindly shared that particular warning with EE. ®
Bootnote
Hat tip to Reg reader Joseph Heenan, who flagged up the CE marking howler to us.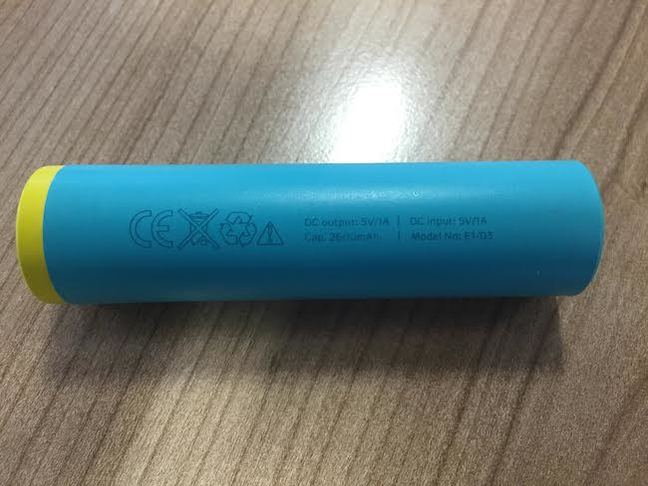 An EE Power Bar with the wrong CE marking from a different batch to those models that have been recalled. Pic credit: Joseph Heenan
It's also worth noting that the so-called "Chinese Export" marking – which some people attribute to products manufactured in China – is about as real as the existence of a unicorn, as this response from the European Commission explained back in 2008.
Do you have an EE Power Bar that is not affected by the recall? If yes, is the CE marking "squished"? Tweet us your pictures to @TheRegister.