Sales layoffs at PernixData: Flogging or IPO on the way?
Lack of vSphere support has hindered development, we reckon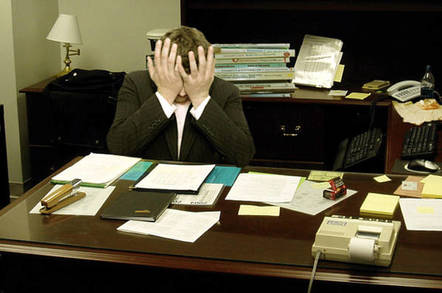 +Comment Things can get tight, tense and twisted at startups getting close to IPO or acquisition, and management can get hyper-focused on the outcome it wants as issues mount.
That seems to be happening at PernixData. After news broke of layoffs at the hot clustered hypervisor-caching startup last week, we have learned more of the high-stakes game being played by its management as an endgame exit becomes possible.
PernixData said it has just closed a record quarter, 125 per cent up annually, has surpassed a 500 customer count and is continuing to "aggressively invest in sales, marketing, engineering, and the channel."
Yet we have learned, from sources aware of the situation inside the company, that all is not as rosy as this implies. Among the laid-off staff were sales people, and they were told that the sales force had been grown too quickly.
About a third of field sales and all channel and inside sales were terminated, said our sources, some with small severance packages.
Jeff Aaron, marketing veep, gave The Register this canned comment: "We don't comment on rumours. As stated prior, we did a record first year, we just closed a record quarter, and business remains strong. Those are all facts, not misguided or unsubstantiated gossip."
So there we have it.
In any case, we were also told that it offered its staff unlimited vacation* and personal time off, which sounds weird. A startup, needing to build its business, giving this benefit to staff? Why on earth would it do that? Well, we hear it does not have to pay accrued vacation time to terminated employees.
Their termination letters included a non-disparagement clause, meaning that their termination notice conditions prevented them from disparaging the company in public. Saying, for example, that its forward sales pipeline was too small could arguably be defined as disparagement.
We understand there are several product problem areas inside the company:
The FVP product is missing vSphere v6 support and this is overdue, possibly coming in October, with sales lost because of it
The Architect pivot product is not ready for production use
The sales pipeline is flat to negative
Customers are finding that the Purple Screen of Death (PSODs) is not a complete stranger to them
Pursuit of a fourth funding round has been made harder because the projected sales and revenue numbers aren't good enough
CTO and co-founder Satyam Vaghani reportedly compared the lay-off situation to what happened when EMC bought VMware.
On a side note, the startup ethos of all hands to the stock option-rewarded pumps, where you work your ass off because you and everyone is jointly and mutually committed to success, seems to be absent at Pernix.
Architect
Architect is a forthcoming product that is intended to be used for managing a software-defined data centre (SDDC), gathering statistics, providing insights and analytics about workloads running in the SDDC. A data-collecting agent is added to each ESXi host for this.
The collected data can be uploaded to a Pernix cloud and one SDDC's performance compared with others in a benchmarking exercise.
Aaron blogged: "PernixData Architect is server-side, hardware-agnostic software used to plan, monitor, and optimise applications and infrastructure in a virtualised data centre. It provides unprecedented visibility into both VM and infrastructure behaviour, and correlates the two to provide prescriptive, real-time recommendations on how best to optimise storage and application performance in every data centre."
Acquisition
In July PernixData ran an internal audit of all its assets, right about the time that sales VP Ted Stinson left. CEO and co-founder Pujan Kumar told an internal meeting at the time that a merger and acquisition inquiry had been received.
To summarise: the situation we see from what we have heard is that PernixData is looking at stalled sales growth and has had to lay off sales staff off to cut costs. Its main product lacks important vSphere support which is hindering sales.
The new Architect product is not ready and doesn't represent an immediate fix to the looming revenue problem.
The sales forecasts don't look good enough to justify investors putting in money for a fourth funding round and, instead, we hear that the company may be working towards an acquisition by Dell as its endgame.
On that basis it is likely existing investors with operational experience would be motivated to get directly involved in sprucing up the ship for a sale. ®
Bootnote
* Some evidence of the unlimited vacation policy confirmed on employment rumours website Glassdoor. PernixData did not address this point when we specifically asked them about it.
Sponsored: Minds Mastering Machines - Call for papers now open