Lettuce in SPAAACE: Captive ISS 'nauts insist orbital veg is 'awesome'
'One giant leaf for mankind' quips puntastic NASA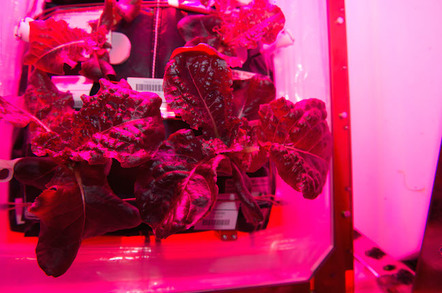 VID As promised, astronauts aboard the International Space Station have eaten the first ever "fresh food grown in the microgravity environment of space" - "Outredgeous" red romaine lettuce.
Astronauts Scott Kelly, Kjell Lindgren and Kimiya Yui were the first to sample the produce from the Veggie orbiting vegetable patch, although declaring the result "awesome" is perhaps rather exaggerating the taste merits of the crop in the absence of a decent dressing.
NASA is in full puntastic mode for this ground-breaking moment, quipping: "That's one small bite for a man, one giant leaf for mankind."
Resisting further dodgy horticultural wordplay, NASA says of Veggie: "With the long-duration missions aboard the International Space Station (ISS), it has become clear that more emphasis needs to be placed on improving human habitability."
"VEGGIE can support a variety of experiments used to determine how plants sense and respond to gravity. The plants will be harvested for further investigation and consumed by the crewmembers." ®
Sponsored: Detecting cyber attacks as a small to medium business