Introducing the Asus VivoMini UN42 – a pint-sized PC, literally
The Celeron cost-cutter for us simple folk
Storage squeeze
Out of the box, the Asus VivoMini UN42 starts off with around 12GB spare from a 32GB SSD. This eventually shrank to 2.5GB after numerous rounds of updates, setting up Microsoft Office 365, installing its updates and adding a restore point as well. Where does it all go?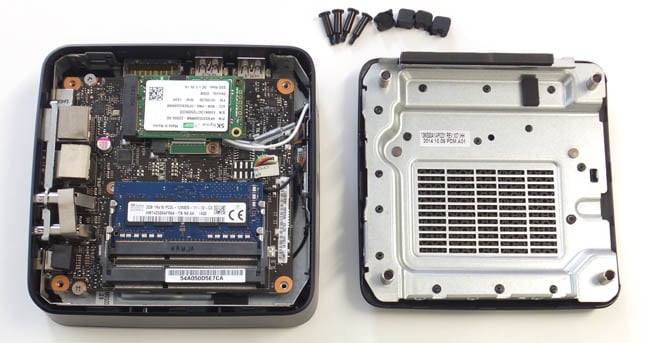 Opened up there are two RAM slots and it can take up to 16GB in total. A cooling fan is out of sight, underneath the main PCB.
Click for a larger image
Needless to say, running Microsoft's Disk Clean-up utility was initially a necessity in liberating more space but as round after round of update checks proceeded, it later failed to make much of an impact. The lesson here really is that hoping to get away with running Windows 8.1 on a 32GB SSD is a waste of time.
It was tempting to see if Windows 10 could be installed, as it needs 3GB of space, but as I was writing, the space was steadily shrinking. Despite having Windows Update set to inform rather than download, something was busily eating up storage in the background.
As for running Futuremark's PCMark 8 benchmarking software, that failed to install on the VivoMini, despite unzipping it and running the installer from a WD My Passport Ultra hard disk. In the end, I settled for Geekbench to get a perspective on the VivoMini UN42's processing power.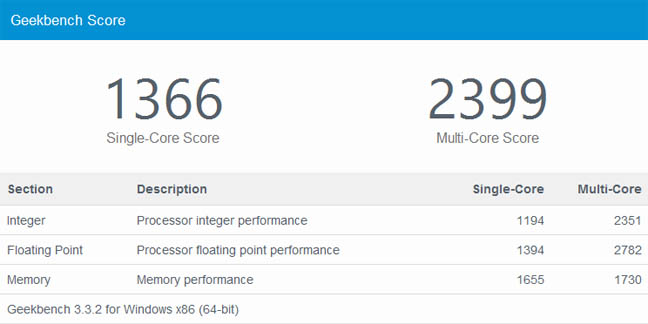 Geekbench results
The results Geekbench chalked up suggests that the power of this Celeron is on a par with an Intel 2.4GHz dual-core T8300 Core 2 Duo from 2008 (think: white MacBook from that era) although you do get the GPU thrown in with the Celeron.
On that point, I did find that running a full HD Amazon Prime Video stream at full screen wasn't the smoothest with fast action and swift panning shots. It was also one of the reasons the disk space was disappearing, as it built up a stream file cache.
Given the Celeron's unremarkable processing power, using the VivoMini to transcode a full HD video to half the size with the ever wonderful Handbrake was a tad slower than real time, which makes it a real chore.
Intel Core series processors would typically manage this task at two-to-four times real time and then some. If you're going to attempt demanding video or imaging work occasionally, then you'll be much better off looking at the Core i5 model.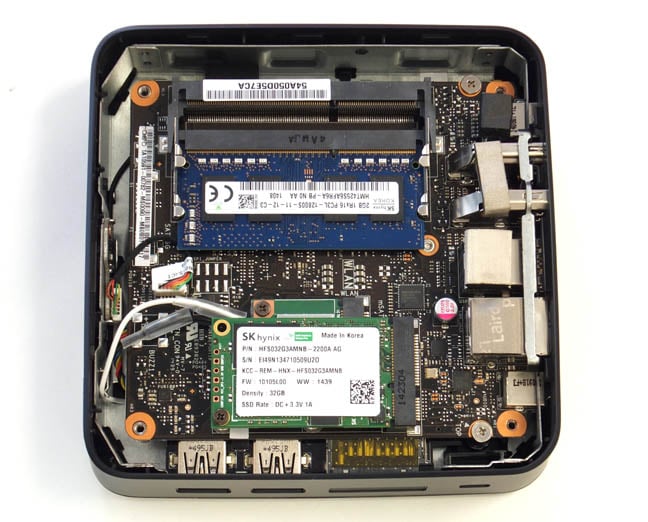 So you get Windows 8.1 on the SK Hynix 32GB SSD, but it's a bit of a waste to have to buy it, as most users will discover they need to upgrade as there's so litte space to instal apps. Click for a larger image
A final word on the internal storage, the Vivo Mini will take mSata SSDs with capacities up to 256GB. If you planned to get a bigger SSD, it does look like you'd have to swallow the cost of the 32GB SSD with the purchase, as there was no sign of Celeron models with larger drives for sale.
Of course, there's the barebones version, but you'll need an OS. Also, with the ready-made Windows model the Asus WebStorage app offers a 100GB cloud service, free for a year.