Toshiba invites Seagate to the gun show after raising its SSD game
Gen 3 drive is faster – much faster – than gen 2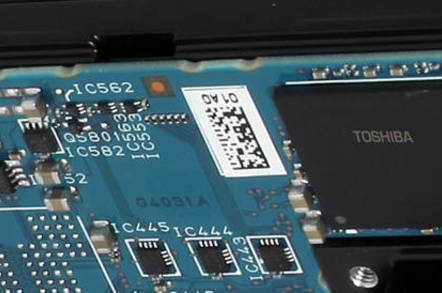 Toshiba's latest gen 3 enterprise SSDs show an uncanny resemblance to Seagate's 1200.2 products in model type, capacity range and endurance terms, with both suppliers topping out at 3.84TB. Odd that.
The race is on for SSD suppliers to replace fast hard disk drives in the data centre, with Seagate, Micron and Toshiba all introducing products with varying read and write IO optimisations, and ringing the changes on endurance and capacity.
Toshiba's PX04S SSDs are 12Gbit/s SAS interface SSDs, now data centre table stakes, and the four models are:
PX04SHB write-intensive, high-endurance with 25 drive writes per day (DWPD) warranted for 5 years
PX04SMB medium endurance with 10 DWPD
PX04SVM lower endurance with 3 DWPD
PX04SRB read-intensive and low-endurance drive with 1 DWPD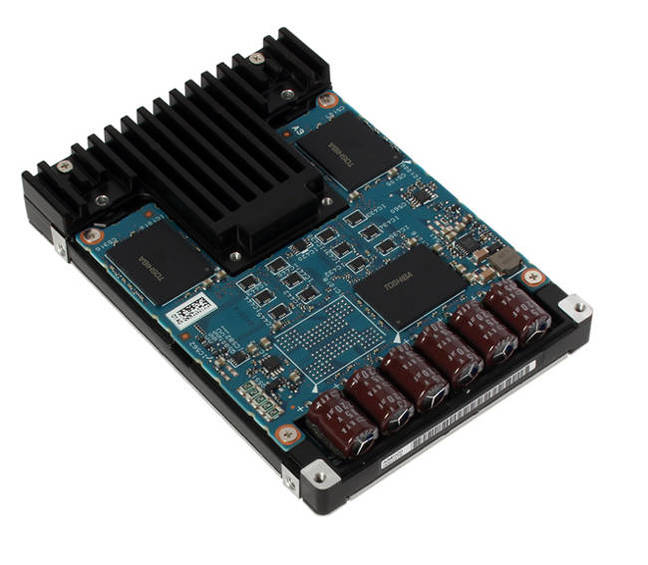 PX04S eSSD with cover removed.
The tabulated speeds:

Click the table to see a larger version
The older gen 2 PX02S products use previous-generation 24nm NAND and the largest capacity was 1.6TB. Random read IOPS topped out at 130,000, under half the 19nm NAND PX04S' figure, with random write IOPS ranging from 25,000 to 42,000. Gen 3 PX04S numbers have a wider range; 22,000 to 125,000, possibly reflecting stronger optimisation for read- and write-intensive work at the extremes.
Sequential bandwidth speeds have increased with the PX02S' maximum 1.1GB/sec read bandwidth going up to 1.9GB/sec with the PX04S, and the write bandwidth peak changing from 410MB/sec to 850MB/sec. These new SSDs are definitely go-faster drives.
How do these latest Toshiba enterprise SSDs differ from Seagate's 1200.2 products?
Tosh's product has a consistently higher random read IOPS value of 270,000, versus Seagate's 140,000-210,000 range
Tosh's random write IOPS' range is 22,000-125,000, while Seagate's is 15,000-70,000
With sequential reads, Seagate's 1.7-1.8GB/sec is exceeded by Toshiba's 1.5-1.9GB/sec range
Seagate has a 390-800MB/sec sequential write range, compared to Toshiba's 750-850MB/sec one
Toshiba's drive is generally faster than Seagate's in IOPS' terms and also, but by a thinner margin, in sequential bandwidth numbers.
A Storage Review test of Toshiba'a PX04SMB concluded: "The Toshiba PX04S are 2.5" enterprise SAS SSDs that provide massive performance and enough different models to suit most use cases. The mid-endurance model we tested showed chart-topping performance throughout, setting a new watermark for SAS SSDs."
Whenever and if Storage Review tests Seagate's 1200.2 drives, the comparison should be interesting.
OEM drive choices are driven by many things, not just IOPS and bandwidth, so we can't assume Tosh's drives will wipe the floor with Seagate's. On our simplistic comparison, though, Seagate has improved its enterprise SSD game considerably, but Toshiba's drives are still ahead. ®
Sponsored: From CDO to CEO