Australian telcos won't get red tape relief says Brandis
Carriers get website blocking, data retention and the same red tape reduction as other industries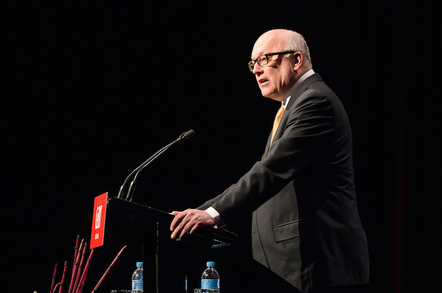 Australia's carriers won't be offered the tit-for-tat regulatory relief the government says is due to other industries.
The manifesto of Australia's ruling Liberal Party includes a policy titled Boosting productivity and reducing regulation that says the government will improve Australia's economy by, among other things, "reducing the regulatory burden that is strangling Australia"s economic prosperity and development."
The policy also says the following about the cost of any new regulations:
"Our drive for deregulation will apply to all government entities: departments, agencies and statutory bodies.

For example, a new regulation that has a compliance cost to small business of $30 million per year will be offset by measures that provide $30 million in cost savings or efficiency benefits to small business over the financial year. The fundamental objective is for all new regulations to have a cost neutral impact on business."
Prime Minister Tony Abbott has also outlined a doctrine whereby "If there's a modest increase in regulatory costs in one area, it's got to be more than compensated by a reduction in regulatory costs in another area.
The government's delivered on its deregulation agenda on three "repeal days" on which it has swept aside old and/or redundant legislation, or laws it promised to do away with.
But it has also introduced three very significant new regulations for the telecommunications industry, namely:
The Telecommunications (Interception and Access) Amendment (Data Retention) Bill 2015
The Telecommunications and Other Legislation Amendment Bill 2015 [for network design oversight]
The Copyright Amendment (Online Infringement) Bill 2015 [for site-blocking]
The government has kindly made AUD$131m available to help with the cost of tooling up for data retention, but I thought I'd ask the nation's attorney-general, the source of the three new regulations/laws, if the principles of finding savings when new regulations are imposed have been upheld.
Here's the reply we've been suggested can be attributed to "a spokesperson":
"The Government has announced red-tape reforms which, if fully implemented, will result in annual savings of over $2.45 billion in reduced compliance costs for businesses, community organisations, families and individuals which far exceeds their annual net $1 billion target. The Government will continue to work with telecommunications service providers to assist them with meeting the data retention obligations.
Those savings include the repeal of the carbon tax, which would have added a fair bit to telco electricity bills. Yet few telcos feel the $131m will cover the collective cost of their new retention rigs, never mind ongoing operations.
Australian Bureau of Statistics data suggests "telecommunications services" had collective revenues of $41 billion in 2013/14. "Internet service providers, web search portals and data processing services" gathered another $5 billion. Together, the two sectors account for about three percent of the nation's $1.5 trillion gross domestic product.
Three per cent of the claimed $2.45 billion red tape savings available to all Australian businesses and individuals is about $70 million.
With data retention alone expected to cost over $100 million to implement, is the government's regulation policy delivering on its promises to the comms sector?
The attorney-general seems to think so. There's a comments field down there where you can add your opinion. ®
Sponsored: How to get more from MicroStrategy by optimising your data stack