Cop shops mock cop for cop stop flop: He'll cop it for copping it up - top cop
Mockup cockup leads to lockup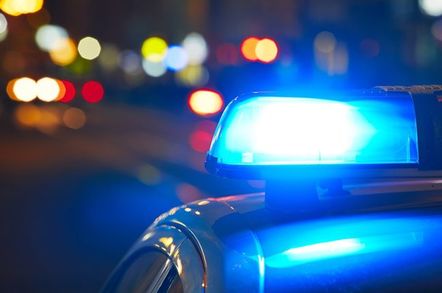 A man pulling over drivers while pretending to be a cop has been charged after being rumbled by one of his targets, who was himself an off-duty cop.
Authorities in northeast Ohio said a man impersonating a police officer was caught and charged this week.
Howard Maldonado, 42, faces a charge of impersonating a police officer, a first degree misdemeanor, Ashtabula County Prosecutor Nicholas Iarocci said in an email message.
A first degree misdemeanor carries a maximum penalty of six months in jail and a $1,000 fine, reported local paper The Star-Beacon.
The real officer, according to Police Chief Hugh Flanigan, said he was pulled over by a black Chevy Tahoe displaying red and blue emergency-style lights. After the mock cop failed to stop the cop, the cop shopped him to local cops who cuffed him "minutes later".
Police do not know why the man pulled over the policeman's vehicle.
"I don't understand why he had red and blue lights (on his vehicle)," said Flanigan. ®
Sponsored: How to Process, Wrangle, Analyze and Visualize your Data with Three Complementary Tools