Kelway new owner CDW tells staff to rest easy. Job cuts? Nah
No severance or office closures pegged, but Brit firm will have to pull up SOX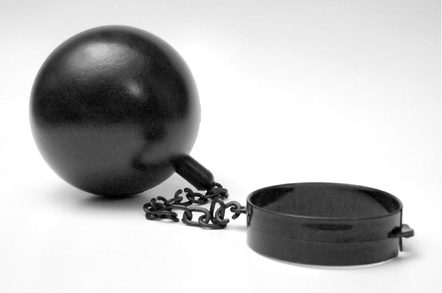 The great unwashed at Kelway could be forgiven for checking their backs after CDW acquired the reseller yesterday, but job cuts or office closures are not part of early integration plans, or so say the new bosses.
The world's largest tech reseller – CDW won 3,000 new punters in Q2 alone compared with the 4,600 in total that Kelway has on its sales ledger – coughed $372m in cash and $59m in stock to buy the firm (excluding fees/costs), and consolidated $80m of debt.
This equates to an enterprise value of circa £330m, and means Kelway founder and CEO Phil Doye, who owned 56 per cent of the company, will have enough money to take the family on holiday ... a very long one.
CDW has other plans, and wants Doye and his team to stick around as it aims to operate Kelway as a "standalone CDW business", Tom Richards, CEO at the US titan told Wall Street types on a conference call.
"As is our practise, we will take a measured approach to integration ... teams are in place and work is already underway to determine the steps necessary to create a seamless, one company experience."
A "strong retention programme" has been erected "for the people at Kelway," he added, "and I'm happy to report that they are signed up and ready to go, so we feel really good about both the rolling business, retaining and growing customers and retaining the co-workers".
There are around 1,000 staff at Kelway with offices across the UK and a business established in Singapore. About 90 per cent of sales are transacted in Blighty.
Doye, Kelway MD Dan Laws and the four sales directors are understood to have signed a golden handshake that financially ties them to the business for a specified time, though this was unconfirmed at the time of writing.
In the initial phase at least, the Kelway brand will remain. "As we move through the integration process, we will think about if there is enhanced advantage for changing that", said Richards.
Asked about integration charges on the same con-call, CDW chief beanie Anne Ziegler told financial analysts "this is not a transaction that's about taking cost out of the combined business".
"There won't be any severance charges along those lines. There are obviously no facilities to shut down ... as we develop an integration programme, there will likely be some expenses related to system integration," she added.
Major upheavals are typically a feature for any company being acquired as the acquirer seeks to boost profits by slashing costs, e.g. back office functions, so Kelway staff should be able to rest easy for the time being at least.
Significant changes in the way sales staff operate under a US parent beholden to Sarbanes Oxley accounting regulations will, however, likely have an impact on daily life at Kelway, according to numerous sources.
Private companies are invariably more nimble with a small set of decision makers, and can push the boundaries of accounting rules. At an SEC listed group, policy will be tightened and procedures should be whiter than white with company audits in mind.
"Local teams will need to establish credibility with US leaders and for some this may feel like a straight jacket," one contact said.
The US accounting rule known as Multiple Elements has implications for discounts and revenue recognition, so there'll be no pre-booking sales in anticipation of getting the order the following month.
These examples may clip the entrepreneurial wings that helped Kelway soar to a £600m-plus sales organisation, say rivals, but then again, they say this would wouldn't they.
Kelway was unavailable to comment. ®
Sponsored: Minds Mastering Machines - Call for papers now open