Insight becomes latest victim of global currency conundrum
If it wasn't for that pesky US dollar IT gods would have smiled on us in Q2, yells CEO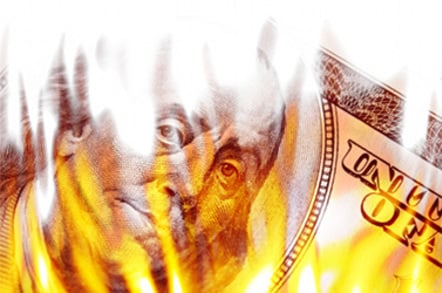 Not a month passes without US-based tech suppliers bemoaning the ruinous impact of unfavourable for-ex rates on their financial well-being, and Insight Enterprises is the latest to do so.
The Microsoft enterprise licensing house reported sales of $1.42bn for Q2 that were marginally up year-on-year but would have risen seven per cent if not for a currency headwind in EMEA.
In North America, Insight sales moved up ten per cent to $979m with hardware up 11 per cent, software up five per cent and services up 27 per cent, albeit off a smaller base.
CEO Ken Lamneck, said demand for notebooks and desktops was evident in the States as large - typically lower margin - enterprise clients upgraded their infrastructure, but that spending levels with SMEs was lower.
"This combination of client and product mix dampened our gross margins in the quarter," he said on a conference call.
The recovery of operations in EMEA continued, sort of, with sales up one per cent in constant currency to $381m but down 15.5 per cent when for-ex translations were factored into the numbers.
In EMEA, hardware sales were down 13 per cent, software fell 16 per cent and services declined 12 per cent.
"In the hardware category, double-digit growth in sales of servers was more than offset by lower sales of networking and storage product, which led to a slight decline in the category," he said.
The relatively small outpost in Asia Pacific dropped 21 per cent or eight per cent in constant currency to $64.8m.
Consolidated gross profit at group level decreased two per cent to $191.4m but grew four per cent in constant currency.
The area of the business that Insight could control, costs, didn't work in the company's favour either, with additional headcount in EMEA and the US, and severance and restructuring expenses weighing down operating profit by four per cent to $41.2m.
The company lowered its earnings per share guidance for the year by $0.05 due to the currency challenge, and previously announced Microsoft rebate reductions for classic licensing sales.
But it expects investments in mid-market personnel and the cloud to start paying off in a more meaningful way from 2016. ®