Hacklands introducing geeks to something called 'outdoors'
In tents coding session for hackers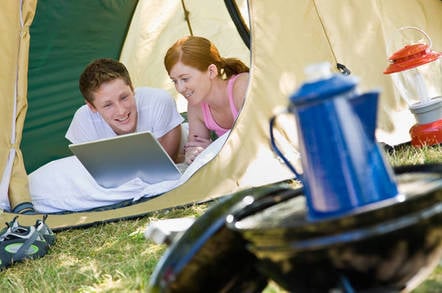 A new take on a hackathon is being tried by the team behind more traditional geek gatherings such as Swedish Beers and Heroes of the Mobile Fringe. They are going to do it outdoors. Yes, outside. In fresh air.
Hacklands combines key elements from hackathons (where software and hardware developers get together to make stuff with other interested parties), barcamps (where people organise their own discussion sessions or workshops) and a festival (with music (well, Kanye West), food, camping, glamping and a campfire).
James Tagg, co-founder of Hacklands said: "We create our future through the technology we develop but we don't give enough time to thinking properly about that future. Hacklands is an opportunity to experiment with technology and creativity and relax with fellow future gazers."
Tagg said he is looking for people to hack with a green tinge, looking particularly at "using proto-typical AI to improve usage".
He wants to get his Mitsubishi Outlander Hybrid to charge from its solar cells at sensible times and to work in concert with his home network rather than just be paired with a phone.
Music will take the form of a memory maestro and a concert pianist playing all 210 works of Chopin and then explaining how he memorised the lot. More mainstream is music from DJ Oisin Lunny.
The festival is aimed at people interested in technology and its social and economic implications and will host activities aimed at both adults and children.
There are a variety of activities planned including a music glitching session, an experimental LTE network (courtesy of Truphone), eCows and LIDAR data (courtesy of the Open Data Institute), open space style discussions with Lloyd Davis (founder of The Tuttle Club) and much more, including chances to commune with the lush West Kent countryside.
All participants are encouraged to get involved and lead a workshop, discussion or art session.
Accommodation in the farmhouse is sold out – hackers clearly like to be indoors, but there is glamping, which means you don't have to carry a tent and bedding.
Outside of communal meals, there will be a pay bar and café open all weekend serving snacks, cakes, soft drinks, beer, cider and wine and generally adding to the festival vibe.
"I've attended and produced all kinds of events," said Helen Keegan, co-founder of Hacklands, "and I'm also a big fan of music festivals so I wondered what would happen if we combined the formats and created something that has the best bits of all of those events."
The event takes place from 14-16 August 2015 at a farm in Crockham Hill, West Kent. It costs £60 for a ticket without camping and £100 to include camping. Meals are included with all tickets, for more details see the website. ®