China and the cloud sink their teeth into server sales
Tier-1 server suppliers feel the bite as Chinese vendors increase market share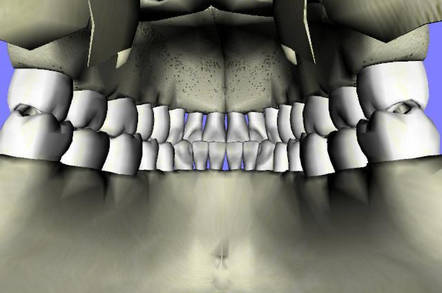 China and the cloud are wreaking havoc on Dell, HP and Lenovo server sales, with Chinese and Taiwan ODMs benefitting. Why should this change?
Gartner says second quarter 2015 server shipments rose 8 per cent year-on-year (y-o-y) but only Cisco among the tier-1 vendors benefitted from the rise, with the others seeing falling sales.
Two market areas helped send server sales surging – China and the public cloud, with China taking 26 per cent more y-o-y, supplied by Chinese suppliers mostly. Inspur had the biggest share of server sales in China, overtaking Dell.
Overall supplier ship shares – thank you Stifel MD Aaron Rakers for the numbers – were:
HP server ships sank 4 per cent y-o-y
Lenovo/IBM System X's market share declined to 7.9 per cent from the 10.5 per cent number a year ago
Cisco bucked this trend with an 11 per cent y-o-y rise, thought to be from enterprise sales against the other tier-1 vendors
Combined HP, Dell, and IBM/Lenovo x86 server shipments are estimated at 5.213m, 4 per cent down y-o-y (-209,756 units) with everyone else's shipments totalling 5.284M, up 20 per cent y-o-y (+876,800 units),
Huawei server shipments were up 31 per cent y-o-y
Inspur's server shipments rose 51 per cent
Server shipments from Sugon rose 29 per cent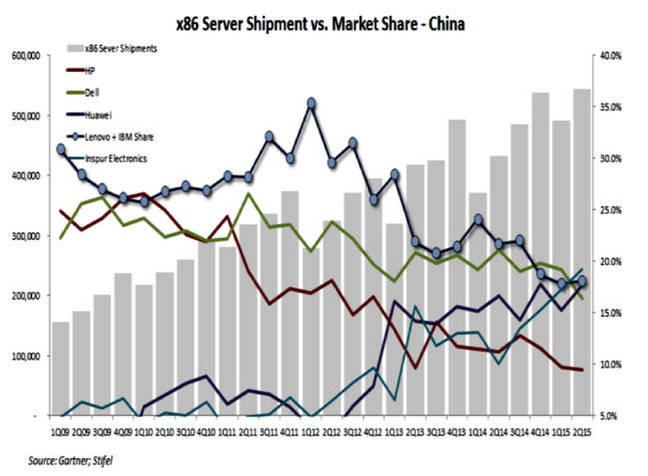 Server vendor shipment shares in China. Click image to see large chart
The tier-1 server OEMs have not seen a Grantley-assisted uplift in sales, as QLogic's latest results testify. Rakers says tier-2 and 3 server vendors saw the benefits of the added server sales instead.
He says China takes in about 20 per cent of total x86 server sales: it was 11-12 per cent in 2010.
Rakers thinks that software-defined data centre and storage ideas are "driving strong demand for tier 2/3 and ODM (Original Design Manufacture) vendors – a trend we expect to increase going forwards".
His overall server supplier market share numbers for the second 2015 quarter are:
HP – 20.5 per cent: it was 23 per cent a year ago and 20.1 per cent in 2015's first quarter,
Dell – 18.2 per cent, down from 19.8 per cent a year ago and 19.2 per cent in the first quarter
Lenovo/IBM – 7.9 per cent, compared to 10.5 per cent a year ago and 8.3 per cent in Q1
Cisco UCS – 3.3 per cent, compared to 3.2 per cent in the year-ago and prior quarters
El Reg sees no reason why Cisco should be immune to the market trends affecting HP, Dell and Lenovo. Rakers thinks the two forces changing the server market – China and the cloud – are set to continue. That's a nice tasty conundrum for product/market/company strategists at Cisco, Dell, HP and Lenovo. Anyone fancy a move to Taiwan? Or feel like buying Supermicro? ®
Sponsored: Minds Mastering Machines - Call for papers now open