Quantum's StorNext isn't storing up revenues fast enough
Biz in its third age after first tape, and then deduped D2D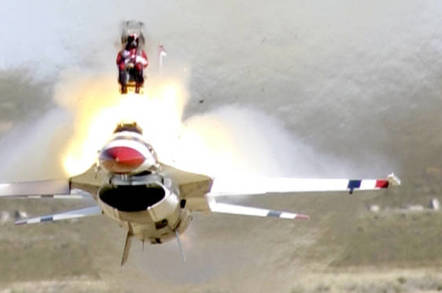 Quantum swung into loss-making territory with its latest quarterly results as reduced revenues couldn't cover existing costs. The StorNext ejector seat, as tape revenues crash and burn, maybe didn't operate fast enough.
As its forewarning indicated, revenues in the quarter ending 30 June were down 13 per cent to $110.9m, from $128.1m a year ago.
The first quarter is seasonally weak for Quantum, which, this time, via CEO and president Jon Gacek's scripted comment, pointed to "overall weakness in the general storage market, which was most notable for Quantum in tape-based data protection but impacted all product lines, including scale-out storage".
It is StorNext scale-out storage which is Quantum's big growth prospect.
There was a loss of -$10.8m, compared with a loss of -$4.3m in the year-ago quarter. In between, revenues had risen and profits made as the chart shows: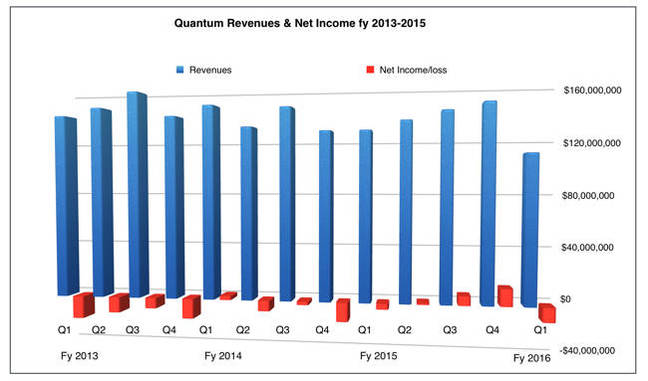 The company laid out its revenue splits:
Scale-out storage (StorNext) and related service revenue grew 54 per cent ($10m) to $27.8m, a 54 per cent increase
Royalty revenue increased $1m to $10.2m
Disk backup systems (DXi) and related service revenue was relatively flat at $17.3m
Branded tape automation and related service revenue decreased approximately $15m to $35.1m
OEM tape automation and related service revenue was down approximately $6m to $9.5m
Devices and media revenue was $10.9m, a decline of approximately $7m
There was $27.8m of StorNext revenue, $17.3m of deduplicating backup to disk DXi revenue, and $44.6m of tape-related revenue in the quarter. Tape is still the biggest piece of Quantum's pie.
StorNext is doing well; having its fourth consecutive quarter of 50-plus per cent growth and sixteenth consecutive quarter of year-over-year growth, just not well enough to compensate for declining or flat revenue elsewhere.
Where now for Quantum? Pressing on with StorNext is numero uno, Gacek said: "Our scale-out storage results reflect our success in expanding our leadership in media and entertainment while growing our footprint in other vertical markets and use cases, such as video surveillance."
"We plan to build on this scale-out storage strategy, capitalising on our unique ability to deliver integrated solutions that provide both unmatched performance and low total cost of ownership through a tiered storage approach encompassing flash, spinning disk, object storage, tape and the cloud."
Encompassing flash sounds interesting.
For DXI and tape we "will continue leveraging our technology leadership, extensive customer base, and strong channel and technology partnerships to generate profit and cash," said Gacek.
Gacek expects Quantum to have revenues of $120-$130m next quarter. That's little improvement, being 7.5 per cent down on Q2 a year ago, $135.1m, and possibly/probably signalling another loss. It scraped a $1.2m profit on the $135.1m.
Quantum's future growth depends upon selling a unified storage facility to customers needing a wide, wide spectrum of file storage media because their files are many and large in both number and size, and distributed across storage tiers quite evenly; it not being a case of hot data with everything else archived.
Scale-out, cross-tier storage is Quantum's third age, its first being tape, and second deduplicating backup data stored on disk. As long as its customers need multiple tiers to cover hot, primary, nearline and reference data storage then Quantum has a business it can grow.
Just get it growing faster will ya! ®
Sponsored: Webcast: Build the next generation of your business in the public cloud