It's Friday! Had a good week? It was probably better than Seagate's
Desktop drives, down. Notebook drives, down. Martinis to take away the pain, down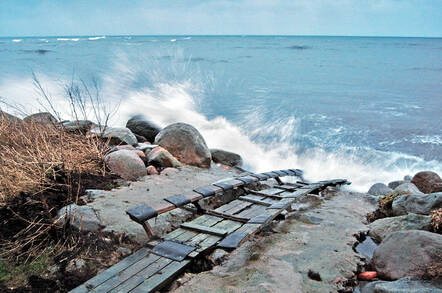 In keeping with its warning, Seagate confirmed a revenue and profits decline as its mainstay desktop and notebook drive shipments tumbled for the third straight quarter.
Enterprise drive shipments also declined in the fourth quarter of fiscal 2015, as did branded (consumer drives), although consumer electronics shipments rose slightly. Seagate's revenues and profits depend utterly on drive shipments, and they both followed overall drive unit ships down. Some 45.3 million drives were shipped, 14 per cent fewer than a year ago.
here are the money numbers:
Fourth quarter of fy2015

Revenues – $2.9 billion; 12 per cent down on the year-ago quarter and the preceding quarter
Net income – $138 million; 57 per cent lower than a year ago and 53 per cent down on the prior quarter

Full fy2015

Revenues – $13.7 billion; the same as a year ago
Net income – $1.7 billion; 6 per cent more than fiscal 2014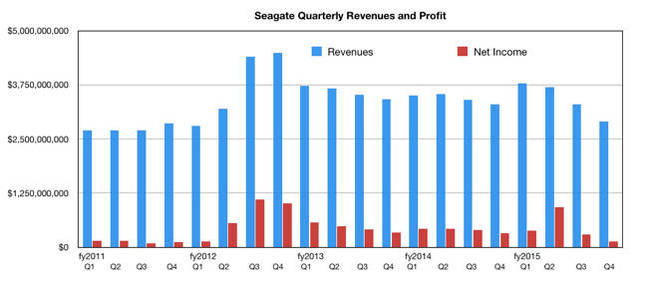 Steve Luczo, Seagate's chairman and CEO, said in pre-written remarks: "While shifting information technology market dynamics have been challenging to accurately predict, we achieved many of our financial goals in fiscal 2015 and remain confident in our long-term growth prospects driven by data growth, cloud, and hyperscale deployments and data analytics."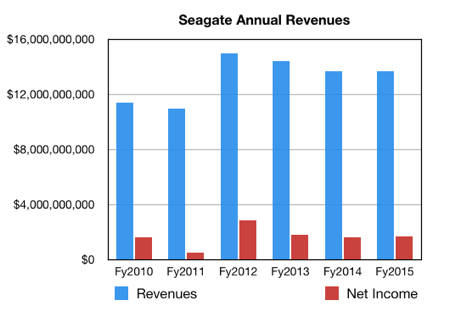 Seagate said average capacity per drive grew 4 per cent sequentially and 22 per cent year-over-year to 1,148GB. Stifel MD Aaron Rakers said WD's average capacity was 1,159GB in the quarter.
Here's how the drive segment splits have changed over recent quarters: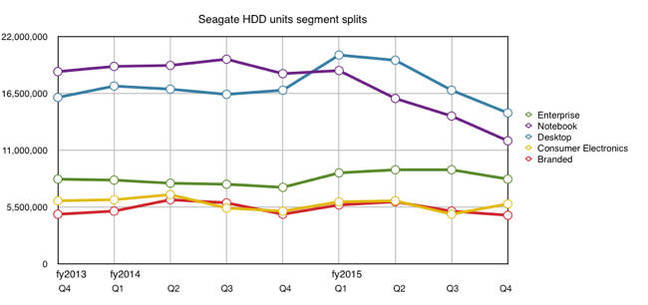 The sustained drop in desktop and notebook shipments stands out. When will it bottom out?
HGST makes helium-filled drives with extra platters in the 3.5-inch enclosures, giving it a capacity advantage over Seagate. Luczo's company thinks that, Rakers says, "From a cost efficiency standpoint, helium does not makes sense for 6TB and 8TB drives, but possibly for 10TB drives. Given that Seagate is just ramping 6TB and 8TB drives, and expects those to have long life cycles, the company does not believe that it needs helium in the near-term."
But in the mid- and longer term it looks like it does need its own helium-filled drive technology.
What about Evault, Xyratex ClusterStor arrays and flash products? Luczo said in the earnings call that "the non-HDD businesses for both of us [WD + Seagate ...] are $250 million-ish."
Cloud Systems and Electronics Solutions President Phil Brace said: "We saw a little bit of softness in the overall system business, primarily related to OEM storage-related sales.... Our flash business, particularly in the PCIe business, continues to be strong and a growth driver for us in that space. So when we look out in time, I think we continue to be excited about our growth prospects there, and we'll continue to work to improve the operational performance of the business going forward."
In other words, nothing dramatic enough to take attention away from the decline in drive shipments.
Seagate will look to reduce its costs by maybe $25 million in the next few quarters but it does not think it will remove production capacity, according to Rakers. Luczo said: "We still are very bullish on the long-term prospects of exabyte growth, and we're actually bullish on client [desktop, notebook, etc.] ultimately." Nothing dramatic in the cost reduction area then.
Luczo sees new kinds of clients emerging: "3D printers... AR/VR... robotics or surveillance capture devices. There's going to be a whole host of new clients that we're particularly excited about that I think will benefit the clients downstream." On the enterprise side, the big growth will be, he thinks, in nearline.
Data science applications, machine-to-machine data creation, and of course just in massive amounts of unstructured data, mostly in the form of video, and especially hi-def, 4K video. It's just growing rapidly, and that's being deployed around the world. And all of the implications for that at the application level, obviously, are what's exciting. And then that's obviously creating the impetus for people to want to store this stuff.
Rakers has had a look at Seagate, Toshiba, and WD HDD market share, and he says, "would highlight Toshiba's total shipments of 16.6 million in 2Q15, or -26 per cent y/y and -18 per cent sequentially. This implies a ~15.1 per cent ship share and leaves W. Digital and Seagate share at 44.0 per cent and 41.0 per cent in 2Q15." Toshiba is not doing so well.
Seagate's outlook for next quarter is for revenues between $2.9 bn and $3.1 bn, $3 bn at the mid-point, less than the $3.8 bn reported a year ago. It's a tough life in the disk drive business, but Seagate is making a good fist of it and is confident about the future. ®
Sponsored: From CDO to CEO