Kim Dotcom to create Wikimedia-style open source Mega 3.0
If at first you aren't jailed for piracy, try, try again, this time funded by donations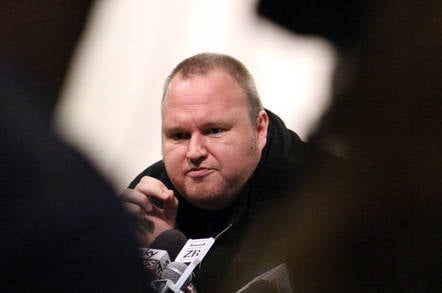 File locker mogul Kim Dotcom has signalled he'll soon create a third version of his Mega service.
Dotcom's first file locker, Megaupload, saw him accused of knowingly hosting, and indeed encouraging the upload and distribution of, stolen films and music. From his new home in New Zealand, he's fought a long legal battle on numerous fronts, fending off extradition attempts, accusing the Kiwi authorities of working without warrants and even trying, albeit failing miserably, to promote a political party.
He's also launched a new file locker, Mega.co.nz that he's previously claimed is a colossal success.
But in a Slashdot interview this week, he said Mega 2.0 "has suffered from a hostile takeover by a Chinese investor" whose shares were "... seized by the New Zealand government. Which means the NZ government is in control."
Dotcom therefore believes the site is compromised. "I don't trust Mega anymore," he writes. "I don't think your data is safe on Mega anymore."
His remedy? Creating Mega 3.0. As he told Slashdot:
"... my non-compete clause is running out at the end of the year and I will create a Mega competitor that is completely open source and non-profit, similar to the Wikipedia model. I want to give everyone free, unlimited and encrypted cloud storage with the help of donations from the community to keep things going."
The full interview, packed with all manner of theories about judicial conspiracies, copyright and crypotography, can be found here . ®
Sponsored: What next after Netezza?