EMC's turbulent trifecta temporarily ties Tucci to top table
CEO sends united federation off to seek out new life and new civilisations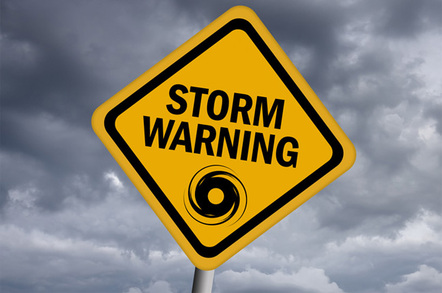 Comment Succession, transformation and a customer buying pattern sea-change are simultaneously embroiling EMC's top management and board in a perfect storm, according to CEO Joe Tucci in the quarterly results earnings call.
Six months after Joe Tucci's last – and deferred – retirement date from running the EMC Federation, where he is chairman and CEO, he has revealed that succession planning is under way, that it's business as usual for the federation and its structure is no longer an option, and that EMC is undergoing a sea change in customer buying patterns:
[We will have] a better co-ordinated go-to-market approach, including the formation of a Federation-level go-to-market organisation... The Board is also deeply engaged in a smart navigation of the CEO succession process and we're very focussed on opportunities that will enhance shareholder value.
Buying pattern transformation
Customers are buying fewer traditional VMAX and VNX storage arrays and this change seems to be an enduring one, as they buy flash-based, scale-out and cloud-focussed products instead.
Tucci said: "The board and management, we understand that the IT industry is in the midst of a sea change, a huge sea change."
This is helping to drive change in EMC's Federation: "We understand that business as usual is rarely a good strategy when an industry is going through this kind of turbulence," Tucci added.
"The companies that will be successful are the ones that are able to truly transform themselves. The board and management, we're focussed on assuring and we are deeply engaged in making sure we have a very successful transformation. We have a number of options, really good options, and we have important next-generation winning technologies, great assets, and we have great people," he continued.
"We understand that, when you are going to this kind of a sea change – and the board recognises it is a huge sea change in IT – business as usual is rarely a good strategy. And we're all about good strategies, transformation and doing things right."
Federation structure
The federation has four member companies:
EMC Information Infrastructure or EMC II, headed by CEO David Goulden
Pivotal, headed by CEO Paul Maritz
Virtustream, headed by CEO Rodney Rogers
VMware, run by CEO Pat Gelsinger
It is being pushed into doing something that will radically improve shareholder value (putting up the stock price by spinning off VMware, for example) by activist investor Elliott Management. Elliott has two seats on EMC's board and has agreed – in a so-called standstill agreement – not to rock the boat further until at least September, when it would be free to agitate for more change.
HP acquisition of EMC
One event heavily subscribed to by some financial analysts, such as Brian Alexander at Raymond James, is a purchase of EMC by HP.
This is seen as a way for Hewlett-Packard Enterprise (HPE), the separated-from-HP printers and PC business – with enterprise servers, storage, services and networking in its business bag and run by Meg Whitman – to get serious storage and cloud heft.
It would marry HP, capitalised at $58bn, with $50bn EMC to form a $108bn giant capable of competing more effectively with IBM, Cisco, Microsoft, Amazon and Google in the cloud IT era.
Sponsored: How to get more from MicroStrategy by optimising your data stack