NIST in suspected 'meth lab' blast: US Congress is demanding answers
Faking Bad or Breaking Bad at nerdy science org – the Feds want to know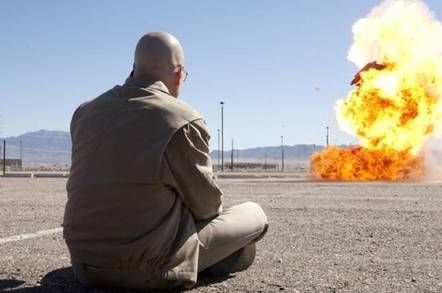 US Congress has opened an investigation into a blast at the National Institute of Standards and Technology (NIST) facility in Gaithersburg, Maryland, that is suspected to be the result of a drug-cooking operation gone wrong.
"At about 7:00pm Saturday, July 18, an explosion occurred in a laboratory room on the NIST campus in Bldg. 236. A member of the NIST security force assigned to the campus suffered non-life threatening injuries, was treated at a local trauma center, and was subsequently released. The officer has since resigned, effective July 19," a NIST spokeswoman told El Reg on Thursday.
"The NIST Police and Fire Departments responded to the incident and then requested the assistance of the Montgomery County Police and Fire Departments. MCPD, in turn, requested the assistance of the US Drug Enforcement Administration and is now working jointly with DEA to investigate the incident. NIST is cooperating fully with the investigation and providing any assistance as needed."
A spokesman for the Montgomery County police told The Reg that there was little they could say as the investigation has now been taken over by the Baltimore office of the FBI, but he did confirm that precursor drugs used in the production of methamphetamine, such as pseudoephedrine, had been detected at the scene.
NIST is a powerhouse of government-funded scientific endeavor and there is plenty of laboratory equipment on site at its Gaithersburg headquarters. It's possible that someone on the staff decided to emulate Breaking Bad's Walter White.
The incident has caught Congress' attention. Representative Lamar Smith (R-TX), chairman of the US House of Representatives' Committee of Science, Space, and Technology, has issued a formal request for details of the case, saying the matter is of "great concern."
If methamphetamine was being produced, an explosion wouldn't be out of the ordinary. The process involves noxious fumes, highly flammable substances, and impurities in the precursor materials and/or a lack of skill in chemistry can have disastrous results.
The full facts of the NIST case aren't known as but in such matters it's always wise to take the advice of the late, great Richard Pryor, who set himself on fire after freebasing cocaine while drinking 151-proof rum: "Chemistry is best left to chemists." ®
Sponsored: Minds Mastering Machines - Call for papers now open