MariaDB seeks home-grown CEO for Oracle bout
Silicon chief to face money men in Big Larry's Lair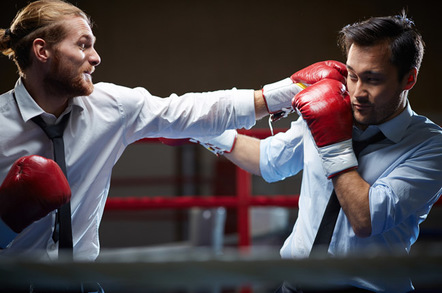 Exclusive MariaDB is going after Oracle in its own back yard with plans for a fresh CEO drawn locally in order to tap funding from A-lister venture capitalists.
Patrik Sallner is stepping down as MariaDB Corp's chief executive for a new job, with the firm's management now interviewing replacements, The Reg has learned. There are a number of names on MariaDB's shortlist.
Sallner, CEO since 2012, said he'd had an offer with a firm (presumably headed by an overweight Marlon Brando) that was too good to refuse.
A Silicon Valley CEO will help MariaDB network with the VC names synonymous with backing the vast tech successes who dwell there, on Sand Hill Road.
Silicon Valley is, of course, the lair of Larry Ellison's database beast, whose HQ is in Redwood Shores.
MariaDB Corp has swallowed $31.9m since 2010, from Russian and European funds.
"I think we will at some stage" seek venture funding, Sallner told The Reg of his firm's plan.
"Look at what's happening in the database space. The incumbents are giant companies and then you have the MongoDBs and the Clouderas that have raised so much money and have more resources. When it comes to marketing and engineering, we have done more with less money but you need to achieve a stronghold. That's why we are working to large rounds in the future."
MongoDB took $80m in its most recent round, bringing its total to $311.1m, while Cloudera bagged $740m, bringing its running total to cool $1bn. Their cash has been deployed in a number of scenarios, to help engineering, marketing, sales and channel.
MariaDB's CEO hunt comes as the firm named a new chief technology officer; ex-LinkedIn database engineering and operations team chief Nishant Vyas.
Vyas was responsible for LinkedIn's high-availability database architecture and helped LinkedIn's move from RDBMS to NoSQL and from Oracle to MySQL. Vyas was one for the first 100 engineers hired by the jobs and careers social network. LinkedIn is not a MariaDB customer.
MariaDB reckoned Vyas brings web-scale engineering experience of different database technologies that provides him with "a keen understanding of our users' business-critical functionality requirements".
The management changes come in the wake of the release of MariaDB Enterprise Summer 2015 that introduces support for Docker and Chef. Docker had existed in the community edition until now. Enterprise brings tools for monitoring and managing the database.
Their inclusion is designed to bring more pure devs to MariaDB, to help it break out beyond its DBA long-standing fans in the DBA community.
"Docker and Chef-like technologies enable a broader number of customers to use MariaDB actively," Sallner said. "Before it was just the database guys. Now, with devops, you have developers using it."
MariaDB was founded as the commercial entity behind the community developed edition of MySQL owned and developed by Oracle.
Oracle took control of MySQL when it bought Sun Microsystems in 2010 for $7.4bn. MariaDB has been stealing business from MySQL – among them Google – as companies fret about Oracle's control over the project and product.
Sallner claimed both his firm's deal size and the size of customers have growth in the last year, with business coming from MySQL conversions and greenfield deals. ®