Storage slump? Dunno what you're talking about, beams EMC
But infrastructure refreshes are slowing, warns top man Tucci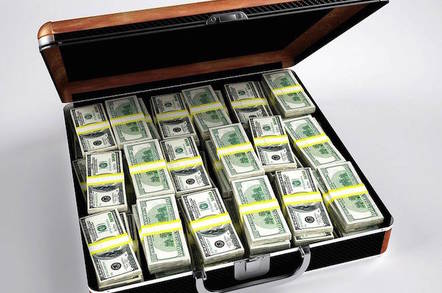 EMC basically saw off most signs of a storage slump with a two per cent revenue rise in its second quarter 2015, although with revenue being reduced after paying $75m in a VMware pricing settlement with the US government.
Revenues of $5.98bn generated profits of $487m, 17 per cent down on profits a year ago, but still well above Wall Street's expectations.
So revenues and profits were not glorious, but not that bad either.
EMC boss Joe Tucci reflected this mixed feeling in his canned remarks: "While pleased with many aspects of the second quarter, especially with the market acceptance and rapid growth of our newer products, we also saw customers become more conservative around refreshing their traditional infrastructures. We also saw ongoing geo-political factors in China and Russia."

EMC revenues and profits to Q2 FY 2015
Some highlights from the results are:
EMC II revenues up one per cent, year-on-year

Information Storage BU revenues up one per cent
Emerging Storage BU revenues up 49 per cent at a near $3bn run-rate

XtremIO growth better than 300 per cent
Isilon and software-defined storage did well

Converged Infrastructure BU had Vblock and related revenues up past 30 per cent growth

Pivotal revenues grew 18 per cent with subscription (annual recurring revenue or ARR) of around $60m, up almost 60 per cent quarter-on-quarter
VMware revenues up four per cent
EMC II boss David Goulden said: "We are focused on evolving our storage portfolio, delivering solutions, leading in high-growth areas, and getting more aggressive on costs. [We are also] taking additional steps to manage the trends in our traditional storage business."
"Aggressive on costs" and "additional steps" could be code for lay-offs, maybe.
There were some global disparities. While revenue from North America was up six per cent year over year, that from EMEA and Asia Pacific and Japan was down three per cent.
Foreign exchange headwinds didn't help at all. EMEA and APAC revenues would have been up eight per cent on a constant currency basis.
All in all, it's a creditable performance, with the profits downturn indicating how hard EMC has to fight for business, although giving $75m to the US government must have left a sour taste in execs' mouths.
Tucci said EMC was focusing on having products and solutions offered as a service, with more cloud services, and having tighter coordination of the federation's go-to-market approach. Steady as she goes, cap'n.
The full 2015 year revenue projection is for $25.2bn, down from a previous $25.7bn, but still higher than 2014's $24.44bn. ®
Sponsored: Minds Mastering Machines - Call for papers now open