Cut-throat cloud pricing not as cut-throat as you'd think
Look away from the static pricing for services...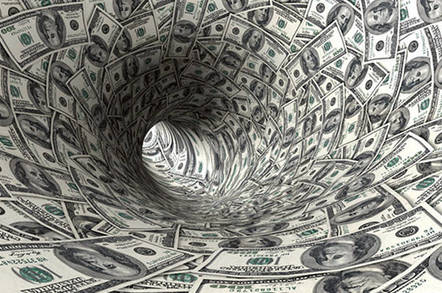 Cloud providers have taken a leaf out of the budget airlines playbook, with what looks like a suicidal price war masking static pricing on the added value services that customers actually need to run real businesses.
But while overall cloud costs are not plunging anywhere near as precipitously as headlines might have you believe, according to 451 Research, some traditional haggling will secure much more competitive pricing for companies with a modicum of planning and discipline.
Last Autumn saw a spate of headlines claiming that big cloud providers were engaging in suicidal pricing in a winner takes all land grab, with AWS announcing a 43 per cent cut in bandwidth pricing and Google cutting service costs by 37 per cent.
But 451 Research's Cloud Price Index shows that in reality the cost of running a typical webserver has dropped a piffling 2.25 per cent since last October.
The analysts found that the headline rate for compute services has dropped 4 per cent over the period, while bandwidth has slipped 3 per cent. However, it noted that providers had plenty of leeway to make up revenue and margin across a range of other services, including PaaS, big data and management - resulting in the much more modest 2.5 per cent drop overall.
Specifically, 451 noted that database services make up 50 per cent of the cost of running the application it uses to gauge the Cloud Price Index. Which makes the new shiny cloud sound rather like the old traditional world of heavyweight IT.
Things became even more familiar when the researchers added that users can drive their costs down with a bit of old-fashioned procurement management, or what 451 calls "committed pricing".
"In addition to asking providers to quote for on-demand pricing, we ask for a best-case quote, which might include negotiation, subscriptions, reserved instances, term commitments or sustained-use discounts," it reports.
"On this base, the best-case price of our basket of goods has plummeted a hefty 12 per cent!" it continues. "So, enterprises that are able to commit can save more than ever on cloud. Using the CPI application specification on-demand now costs $1.68; in the best case, the same application used the same way would only cost $0.95 – a huge 44 per cent savings."
And why are providers doing this, asks 451? "Commitment goes a long way: capital, recurring revenue, financial lock-in and improved cash flow are all good news from the corporate angle."
Vendors are able to plan better, and ensure the infrastructure is better utilised, meaning better margins for providers or cheaper prices for consumers, or in an ideal world, both.
This of course favours customers who have a firm handle on what their computer needs are likely to be in at least the medium term future, and who have the savvy to negotiate with their providers - as well as providers who are savvy enough to offer something like traditional account management to their customers. ®
Sponsored: Minds Mastering Machines - Call for papers now open