Science sub spots lost Revolutionary-era SHIPWRECK
Was actually looking for methane emissions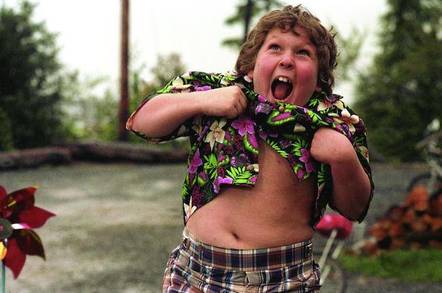 A submersible carrying out scientific research on the deep ocean bed off the Carolina coast has happened across an unexpected bonus: a Revolutionary-era shipwreck that nobody had known lay in the area.
The wreck was sighted a week ago when researchers from Duke University, North Carolina State University and the University of Oregon were carrying out a deep-sea methane expedition aboard the Woods Hole Oceanographic Institution (WHOI) ship Atlantis.
The marine bods, quite by accident, located "the wreck while using WHOI's robotic autonomous underwater vehicle (AUV) Sentry and the manned submersible Alvin," said Duke University in a statement on Friday.
"The team had been searching for a mooring that was deployed on a previous research trip in the area in 2012," it added.
The site of the wreck – which was found more than a mile deep underwater resting along the path of the Gulf Stream that has been used as a "maritime highway" between north and south America for centuries – was "undisturbed and well preserved," said the Marine Heritage Program's chief archaeologist Bruce Terrell.
This was due to the "near-freezing temperatures" on the sea floor.
The university's marine lab director Cindy Van Dover explained how the team had stumbled across the shipwreck:
I have led four previous expeditions to this site, each aided by submersible research technology to explore the sea floor – including a 2012 expedition where we used Sentry to saturate adjacent areas with sonar and photo images.

It's ironic to think we were exploring within 100 metres of the wreck site without an inkling it was there.
Artefacts – which hold vital clues about date and country of origin – uncovered from the shipwreck's remains included wooden ship timbers, a metal compass, an iron chain, glass bottles and an unglazed pottery jug.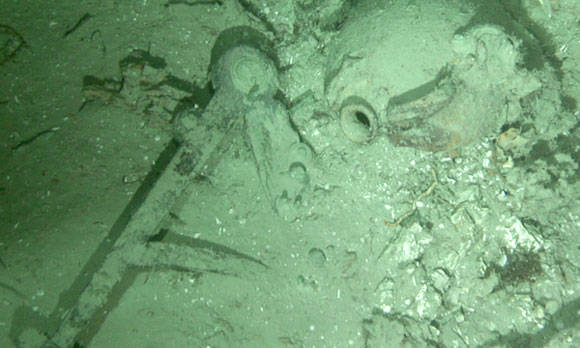 Shipwreck remains found at bottom of sea off coast of North Carolina. Image credit: Duke University
"The find is exciting, but not unexpected," said Marine Heritage Program director James Delgado. "Violent storms sent down large numbers of vessels off the Carolina coasts, but few have been located because of the difficulties of depth and working in an offshore environment."
The mooring, however, continues to elude the boffins. Who knows, perhaps it will be uncovered hundreds of years from now. ®
Bootnote - Napoleonic or Revolutionary era?
During the period which the wreck appears to be from, some of Britain's North American colonies had recently "freed themselves" from British rule (the freedom was not for everyone: for many years the only way an American slave could become free was to escape to British territory). So, to many Americans, this period is the Revolutionary Era.
In the rest of the world, throughout most of the same period, the British were engaged in a massive global struggle against the French dictator Napoleon, who had a forged a genuinely oppressive empire which at its peak conquered much of the Western world. This perhaps rather more serious and genuine struggle for freedom leads Brits to speak instead of the Napoleonic era. -Ed