Quantum blames wobbly storage world for its own wobbly financials
Whoops-a-daisy, tide's out and my nakedness is showing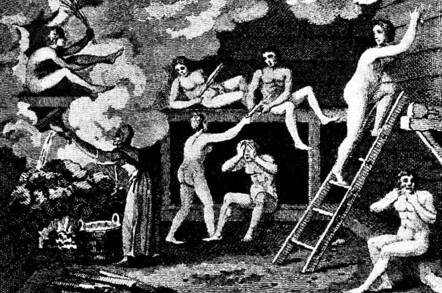 They say that when the tide goes out you can see who's been swimming naked. It's going out for Barracuda, QLogic, and Seagate, and Quantum makes four as it bares lousy preliminary Q1 numbers.
Instead of the hoped-for $125 million to $135 million revenues in its first fiscal 2016 quarter, it's looking at just $111 million. This is a 13 per cent fall on Q1 a year ago and a huge 25 per cent drop on the preceding quarter's $147.8 million. Quantum made a net loss of $11 million, reversing three quarters of rising revenues and profits.
Why is it happening?
It says the fall was "largely due to overall weakness in the general-purpose storage market, as also indicated by other companies' announcements over the last two weeks."
For Quantum in particular:
Scale-out storage (StorNext) and related service revenue grew year-over-year by approximately $10 million, or 54 per cent
Royalty revenue increased by approximately $1 million
There was a decline of approximately $15 million in branded tape automation
Branded devices and media revenue declined $7 million
OEM tape sales fell $6 million
DXi deduplicating disk array product and related service revenue was roughly flat year-over-year
Distressingly, when charted, the results are in line with a longer-term Quantum revenue decline, as shown by the revenue trendline on the chart below: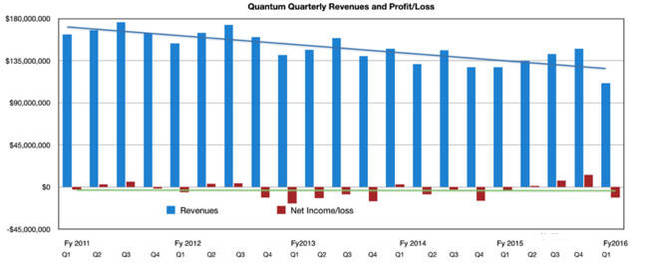 Click chart for larger version
Jon Gacek, Quantum's president and CEO, said "Most notably, the market for data protection in IT data centres was especially soft, as customers seemed to pull back on planned purchases and pricing for low-margin devices, and media was under significant pressure... we believe the pull back in planned purchases was consistent with a broader industry trend. At the same time, we see significant opportunities for upside in scale-out storage that could more than offset weakness elsewhere, and we remain focused on meeting our annual financial targets announced in May."
One swallow doesn't make a summer, nor a snow shower a winter; he hopes. ®
Sponsored: Webcast: Build the next generation of your business in the public cloud