Global productivity hole to open on 30 July as Angry Birds 2 debuts
That's the day after Windows 10 lands. So you'll have something to do if the upgrade goes badly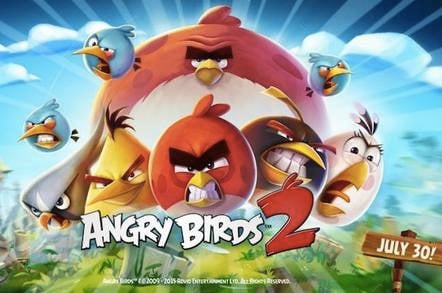 The plucky indie games studio made good productivity-destroying and child-enslaving monsters at Rovio have announced that Angry Birds will fly again, the day after Windows 10 upgrades start to roll out around the world.
Rovio's announced the second instalment of its clever re-invention of ballistics games will land on July 30th.
When Angry Birds debuted, it was just one of many games that lurched into app stores daily. This time around , the game gets the "teaser trailer" below, a high-production-values indicator that the stakes are rather higher this time around.
Another big change this time around is that the game will land on Android and iOS simultaneously. In 2009, Android wasn't a market worth chasing hard.
Angry Birds has spawned all manner of sequels and spin-offs since 2009, including a space version that introduced more than one source of gravity to complicate matters, tie-ins for Star Wars and the movie Rio and even a kart racing game. The latter reflected the direction of many mobile games by making it possible possible to reach the game's higher levels by improving one's kart through credits earned by winning races, but making it plain that in-game purchases offer a faster route to more satisfying play.
This new offering looks like a "straight" sequel, with nothing but birds, pigs and perhaps hyenas to crush.
The game debuts the day after Windows 10 emerges blinking into the sunlight. If your installation of Redmond's latest goes slowly, at least you'll have something else to occupy your time while your PC reinvents itself. But don't try playing in Windows Phone: Rovio's not going there on launch day. ®