It's ALIVE! Network Services contract finally staggers upright
No thanks to Clown Commercial Services, though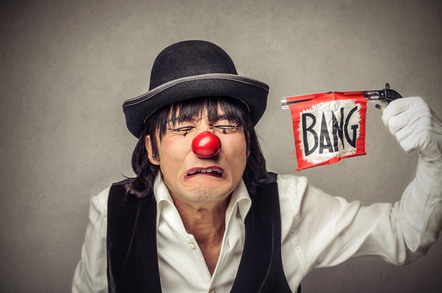 The government's much-delayed £2bn Network Services contract has finally gone live after 12 months of blood, sweat, tears and therapy on the part of suppliers.
The framework is comprised of 61 suppliers, according to Innopsis, the representative body for public services network companies. Of those, 30 per cent are SMEs, the body said, announcing the award.
Originally, the tender said up to 300 suppliers would be accredited.
The tender includes services for data, telephony, mobile voice, video conferencing and, somewhat anachronistically, paging.
Network Services was initially announced in July and was estimated to be worth between £100m to £2bn over the space of four years. However, it was later re-written because SMEs objected to the convoluted document.
Resellers later complained to El Reg in December that delays to the framework meant they would be working over the festive period to complete the 700-question tender after it was redrafted.
Innopsis said is calling for a review of the procurement process that led to multiple delays, and nearly 12 months in the pipeline.
Aside from significant delays, the greatest concern for Innopsis is that cost remains the determining factor for contract awards, it added.
The body said it will be conducting a more detailed survey on the procurement amongst its members in order that it can provide CCS with structured feedback on lessons learned. ®
Sponsored: Minds Mastering Machines - Call for papers now open