Lawyer brands client 'small penis asshole' before challenging him to a DUEL
'You pick the time, place and manner'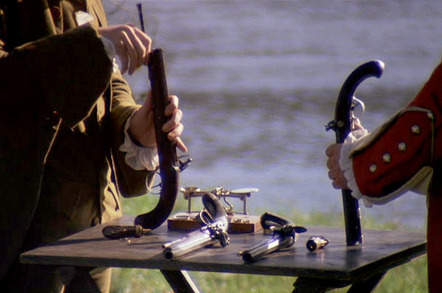 A legal eagle mocked the size of his client's manhood and then challenged him to a duel – not of the pink pistol variety – over an outstanding fee of just $400 (£256), according to an official complaint.
The filing by the Illinois Attorney Registration & Disciplinary Commission revealed lawyer Donald Franz sent an email to Mike Rutkowski accusing him of impugning his honour, and threatening to "gloveslap" him.
In the message, an irate Franz of Donald Franz Law Offices brands his client as "some kind of small penis a**hole."
Franz had billed his client for work completed to help reduce the "assessed value" of property that Rutzokwski had recently purchased and the spat erupted.
The lawyer's email attack continued:
Can you please tell me where you would like to be served? Fee agreements are not required in these matters and not between men. My mistake, there is only one man involved between us.

I challenge you to a duel, you pick the time, place and manner. I choose small claims court. See you very soon. Don
In his response to the complaint, Franz fessed up to the "general characterization" of his mini-member quip, but "denies insulting Rutkowski's pecker or choice of automobile."
He also said the duel challenge was taken out of context, and that in its totality, the mail was not a threat of violence or challenge to a duel; it is, he insists, just a threat to sue in a small claims court.
The filing added:
"The Respondent [Franz] denies, and affirmatively states that no embarrassment, delay, or burden resulted to Rutkowski from the exchange of texts and emails. All work promised was completed. All funds paid by Rutkowski have been refunded to him." ®