Merger-killer Netflix: We're actually OK with Charter's TWC gobble
So long as they keep up the sweetheart interconnect deal, that is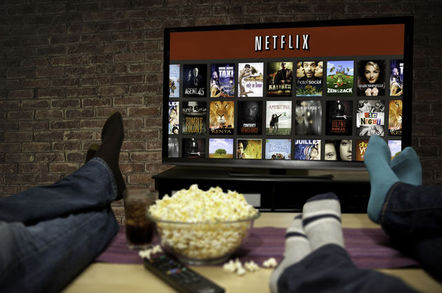 Netflix has publicly backed the proposed merger between Charter Communications and Time Warner Cable (TWC).
The video-streaming giant has filed with US watchdog the FCC in support of the proposed deal.
Netflix is offering its support of the deal thanks to an offer Charter has made to continue its free interconnect deal with Netflix, should the acquisition go through. The interconnect deal allows Netflix's backbone providers to connect directly into Charter's network, ensuring viewers get a high-quality connection when accessing Netflix.
"Netflix's longstanding support for open interconnection policy is designed to ensure that consumers get the online content they want at the broadband speeds they pay for," wrote Netflix global public policy vice president Christopher Libertelli.
"Charter's new peering policy is a welcome and significant departure from the efforts of some ISPs to collect access tolls on the internet."
Netflix has not previously been a big supporter of proposed cable mergers. It filed opposition to both the ill-fated Comcast-TWC merger and the in-progress acquisition of DirecTV by AT&T.
Peering deals were cited by Netflix in both cases when it spoke out against the planned mergers. The video streaming site worries that by consolidating into a few large national providers, carriers will be able to extract higher prices from over-the-top providers such as itself when inking interconnect deals.
The merger between Charter and TWC was announced in May shortly after TWC's deal with Comcast fell apart. The $78bn cash and stock deal would see the combined company cover more than 23 million American cable users. ®
Sponsored: Webcast: Build the next generation of your business in the public cloud