Intel beats earnings estimates (because nobody expected it to earn much)
Another glum quarter as customers shun PCs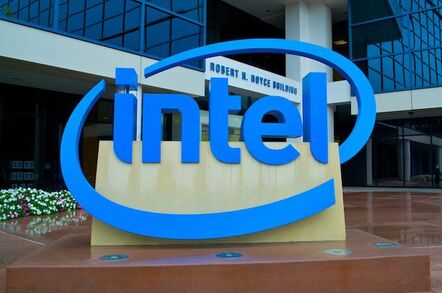 Punch-drunk Intel staggered along in the second quarter of its fiscal 2015 and somehow managed to outperform analysts' estimates, even though its results looked even worse than the previous quarter's.
Total revenue for the three months that ended on June 27 was $13.2bn. And while that was better than Wall Street hoped for, it was a 4.6 per cent decline from the same period a year ago.
Net income for the quarter was down 3.2 per cent from last year's period – an about-face from the first quarter's 3.2 per cent gain – at $2.71bn.
That yielded earnings of $0.55 per diluted share, which topped the analysts' average guess by a nickel.
Beating the analysts' estimates doesn't mean a whole lot, though, when the analysts aren't expecting a whole lot of you. Chipzilla is still being battered by weakness in its core market, and its explorations into areas like software and the Internet of Things aren't doing much to offset the damage.
Once again, it was the Client Computing group – which recently absorbed the virtually penniless Mobile Computing group – that dragged its feet the most. Sales of PCs, laptops, and tablets were down 13.6 per cent, year on year, to $7.54bn. It was the unit's worst performance in four quarters.
Even worse, Client Computing's margins appear to be growing ever tighter. The unit's total operating income for the quarter was just $1.60bn, which was down a gruesome 38.6 per cent annually.
The Data Center group, on the other hand, was a comparatively solid performer. Its revenue for the quarter was $3.85bn, up 9.7 per cent from the year-ago period. But while it was the fourth straight quarter in which the segment reported annual gains, in the three previous quarters the gains were in double digits.
The Internet of Things group didn't grow its revenue as much as in earlier quarters, either. Its total sales for Q2 were $559m, a 3.7 per cent increase from last year's quarter. And it's worth mentioning that as much as Intel likes to crow about this group, its revenue amounted to just 4.2 per cent of the quarter's total.
Software and Services, meanwhile, saw its revenue shrink 2.6 per cent, year on year, to $534m.
And Intel doesn't see any quick turnaround ahead. The chipmaker said it expected its revenue for the third quarter to come in at around $14.3bn, which would be up 8.3 per cent from the second quarter but down a point or two from the same period last year. It also revised its revenue estimate for fiscal 2015; last quarter it said it thought it would be flat from 2014, but now it thinks it will be down 1 per cent.
In light of that gloomy outlook, Chipzilla has embarked on austerity measures that include trimming back on R&D and – once again – lowering the axe on its workforce.
Its head count for Q2 of 2015 actually was up slightly from the previous sequential quarter, but CEO Brian Krzanich reportedly has a new wave of job cuts planned, mostly from Intel's facilities in Oregon, where the chipmaker is the state's largest private employer.
According to Portland's The Oregonean newspaper, those layoffs formally began on June 15, just before the quarter's close, although the exact number of jobs trimmed is not known. ®
Sponsored: From CDO to CEO