Microsoft suspends Windows 10 new-build downloads ahead of launch
Temporary measure to 'stress and validate' delivery system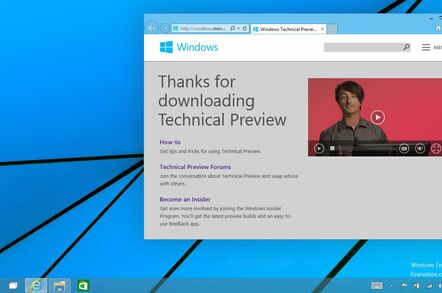 Microsoft's closed the tap on fresh builds of Windows 10 in preparation for final launch.
Windows 10 preview builds 10162 and 10166 are no longer being rolled out through the Windows Update service. Also, if you look for anything new the current build you're on will be shown as "up to date".
ISOs for build 10162 are also coming down from the insider.windows.com site and prerelease keys are no longer active.
Microsoft implied the measures are temporary.
ISOs will be available again in the future, it said, with notices for new builds going out through the Windows blog, Insider hub and via Twitter.
The reason for cutting delivery seems to be an attempt to test Microsoft systems that'll deliver Windows 10 for download. The company has decided to make Windows 10 available for free download for a year to Windows 7 and 8 users.
"We really need Insiders to be using, stressing and validating our distribution and upgrade process," Microsoft general Manager OSG data and fundamentals team Gabe Abul said here.
"We're very close to our public release and we're working very hard to get everything just right."
The Windows 10 official release date is July 29. ®
Sponsored: Becoming a Pragmatic Security Leader