Shapps launches probe into Wikimedia UK over self-pluggery allegs
One-time Tory party chairman asks charity to hand over documents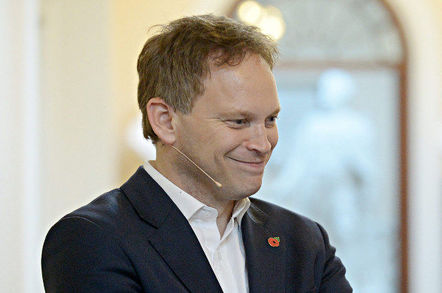 Exclusive Former Conservative Party chairman Grant Shapps, who lost his Cabinet seat after allegations sourced from Wikimedia UK were widely publicised during the 2015 General Election campaign, has filed a request under the Data Protection Act to find out what the organisation knows and wrote about him.
While the BBC has (sort of) apologised for giving prominent emphasis to the allegations, Wikimedia UK hasn't – and the charity told us that it isn't responsible for the actions of its employees.
Based on the allegations of an anonymous contributor, The Guardian newspaper reported that Shapps was linked to a Wikipedia account that made adverse comments about colleagues and rivals. Shapps strongly denied the allegations. The contributor turned out to be an employee of Wikimedia UK (WMUK) and a LibDem activist called Richard Symonds.
Last month, Symonds was formally censured by Wikipedia – but he continues as a paid employee of WMUK, which enjoys charitable status.
Charities are not exempt from data protection legislation, and the Information Commissioner has often reminded them of their responsibilities under the Data Protection Act (DPA). Three weeks ago Shapps filed a section 7 request under the DPA for all data relating to him held by WMUK. He has yet to receive either the data, or even an acknowledgement of the request.
The presence of a WMUK employee in providing the information for a highly damaging story about a prominent political figure may also breach the Charity Commission's guidelines on political campaigning.
This prompted us to ask D'Arcy Myers, the interim chief executive of WMUK, a few questions. His replies might surprise you.
Myers says WMUK was "not involved" in the Shapps story, even though its employee used a WMUK email address to correspondend with the Guardian about Shapps, and frequently made "checkuser" queries on WMUK time to obtain personally identifiable information about edits made to Wikipedia. Therefore, there was no need to say sorry.
"WMUK has not issued an apology to Mr Shapps as the charity has not been involved with this issue," he told us by email.
Myers added that WMUK is "fulfilling" Shapps' subject access request and was aware of the Charity Commission's guidelines on political campaigning. Puzzled by WMUK's disassociation with the story, we asked Myers, who is an experienced voluntary sector executive, how it could be that WMUK was "not involved".
Myers' answer implied he wasn't morally responsible for the behaviour of his own staff, no matter how damaging the repercussions for an individual might be. That was on Thursday – we've yet to hear a reply.
WMF and WMUK: WTF?
Untangling the relationships
While Wikimedia UK (WMUK) enjoys the tax perks of other charities, it's unusual in two ways. It dispenses money raised by an organisation, the Wikimedia Foundation (WMF), which has no authority over it beyond recognition and providing financial support. WMUK is an in independent "affiliate", or "Local Chapter" – meaning, in practice, a group of fans who have the time to devote to the cause who have formally applied for Local Chapter status. WMF has yet to revoke recognition from an affiliate. It's also unusual in that WMUK has no authority over the "community" of Wikipedia contributors. It is the community who voted to censure Symonds, not WMUK.
Wikipedia enthusiasts failed in their first attempt to get charitable status for a local organisation devoted to promoting Wikipedia in the UK, back in 2009. Charitable status allows an organisation to be exempt from corporation tax and stamp duty on property income, relief from business rates, and enjoy Gift Aid relief on donations. It finally won the perks two years later.
However, the status was questioned the following year after directors were using their status as contributors to promote personal interests. At the time, co-founder Jimmy Wales wrote: "It is wildly inappropriate for a board member of a chapter, or anyone else in an official role of any kind in a charity associated with Wikipedia, to take payment from customers in exchange for securing favorable placement on the front page of Wikimedia or anywhere else."
Only then did the WMUK trustee and former chairman at the centre of the story finally resign. Like Symonds, former WMUK chairman Ashley van Haeften also refused to resign after formally being banned indefinitely by the Wikipedia contributor community from contributing to the site. He eventually relinquished his position. ®
Sponsored: How to get more from MicroStrategy by optimising your data stack