PLUTO SPACE WHALE starts to give up its secrets
E-minus three days annd counntingg until New Horizons' closest flyby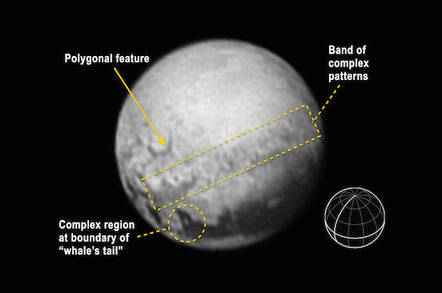 Excited NASA boffins have published yet more imagery of remote dwarf ice-planet Pluto – this time, however, with a bit more geology thrown in.
The US space agency's New Horizons probe is now just three days away from its closest flyby of Pluto, having been on its deep space mission for nine and a half years.
In the meantime, it has continued to beam back images of the remote, icy object – despite a temporary setback with its communications systems.
The latest photo – snapped on 9 July from 3.3 million miles (5.4 million kilometres) away by the 'craft's Long Range Reconnaissance Imager (LORRI) – appears to reveal possible rock formations wrapped across the dwarf's middle section.
#Pluto's south pole won't get sunlight for 80 yrs! Our 1st pics must use moonlight of Charon. http://t.co/nhT0Ma80Id pic.twitter.com/cbOyTqho5D

— NASA Marshall News (@NASA_Marshall) July 11, 2015
"Among the structures tentatively identified in this new image are what appear to be polygonal features; a complex band of terrain stretching east-northeast across the planet, approximately 1,000 miles long; and a complex region where bright terrains meet the dark terrains of the whale," said principal probe prober Alan Stern.
The "whale", mentioned by Stern, got its name from the shape formed around an elongated dark area along the alien freezeworld's equator, which could be the result of fresh dumps of frost. ®
Sponsored: Detecting cyber attacks as a small to medium business