Nissan Juke Nismo RS: Family hot-hatch SUV that looks a bit like Darth Vader's hat
Crossover2 jack of all trades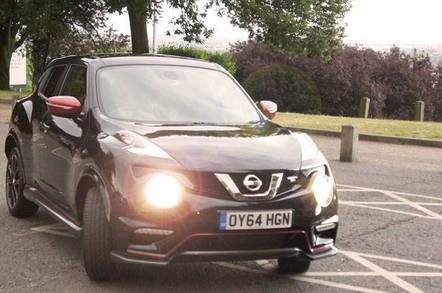 Vulture at the Wheel A sporty SUV seems like an oxymoron, but from the moment you get into the Juke it feels like a great combination of two themes. Here is a practical car which punches above its weight in desirability.
Crossovers are trendy. Nismo is Nissan's sporty moniker, so this is a crossover which absorbs SUV, family car, and hot hatch, essentially a crossover crossover.
I have to admit I like the way the Juke looks, with Darth Vader styling and 18-inch Nismo wheels with red calipers, and for this version a more aggressive body, including a front splitter, red accented door mirrors, and body kit.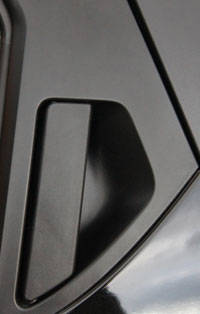 Integrated door handles give it shades of a coupe. At the back there is a decidedly on-road deep bumper featuring a diffuser and a single, large tailpipe, making the Juke look lower and wider.
It looks like a 4x4 but isn't, with a 1.6 four pot driving the front wheels. This bodes ill for being all-show and no-go, but surprisingly I bonded with it.
One of the things Nissan has got right is the tactile stuff. Heavy use of Alcantara makes it feel good. I particularly liked the place for holding a mobile phone near the charging socket. The sporty suede seats are good to sit in but high sides on a car which is a long way off the ground makes it awkward to get in and out.
Passengers would have liked a little more space in the back, but then again this is a pretty compact auto.
There is full climate control rather than just air con and cruise control. Nissan does a good job of the IT side of things with a 5.8-inch touchscreen for the satnav and reversing camera. It's a shame that it doesn't have the birds-eye view of the Qashqai which uses cameras in the door mirrors.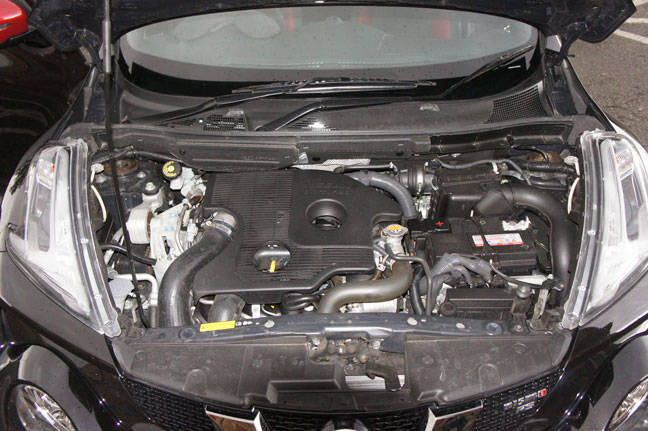 Time was when 100bhp per litre was seen as a lot, but engines have got more efficient and turbocharging gas improved, so 215bhp from a 1.6 isn't way out there, but it's still impressive, and with 207lb-ft torque in a 1,315kg car it'll pick up its skirts and hustle. Short ratios help the pick up and it feels better than the official 7.0-second, 0-62mph time, and 137mph top speed.
There is a shade of understeer and the electric power steering isn't as precise as you might like but it is weighted nicely. Ride is good, most notably over the north-face-of-the-Eiger speed humps that rise like warts from the roads of South London.
The penalty for this is some body roll – but being the Nismo RS with MacPherson struts at the front and a torsion beam at the back, and stiffer springs and dampers than the regular Juke – not as much as you'd fear. Stopping is helped by big front brakes.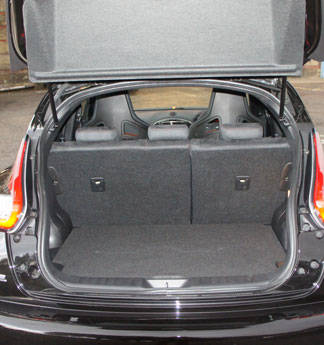 The six speed manual has a good action which adds to the feeling of involvement.
The 354 litre boot is a bit on the small side for something with adventuring pretensions.
But in the two-wheel drive version they are just that and the four-wheel drive has an even smaller boot. You'll be able to enjoy the great outdoors but won't be able to take much with.
This is somewhere between a city car and a tourer: A car for the suburbs. It's nippy, comfortable and most of all it copes exceptionally well with speed humps and traffic calming.
It's narrow enough for width restrictions so you don't have to slow to a crawl as you traverse roads paved with the planners' best intentions.
At £21,500 it's a little pricy, but the Nissan Juke Nismo RS does not feel as though a sporty facade has been plastered over a basic car to push the sticker price up. ®
Sponsored: How to get more from MicroStrategy by optimising your data stack

Nissan Juke Nismo RS: Family hot-hatch SUV that looks a bit like Darth Vader's hat
Sacrifices practicality for fun and fun for practicality but still manages to generate smiles.