Dexter maker Showtime streams over the 'net, joins cable-cutting gang
TV network now available on AppleTV and Roku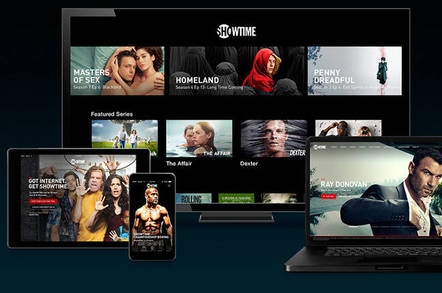 Showtime – the maker of hit shows Homeland, Dexter, and Weeds – has followed HBO, and made itself available for streaming over the internet without a cable TV subscription.
Showtime is available from today on AppleTV and Roku for $10.99 per month with a free 30-day trial, and continues the cable-cutting trend that has cable giants like Comcast and Time Warner Cable worried. Showtime has said it will make its content available on other platforms soon.
(Showtime already streams some season premieres and trailers for free from its website, but now it's offering all of its stuff to people with the right devices.)
Although Showtime doesn't have the same cachet as HBO – which is riding high with its Game of Thrones series – it is nevertheless one of the most coveted cable subscription add-ons. Until recently the economics of cable TV were such that it wasn't worth networks upsetting their cable partners and making themselves available outside the traditional systems.
But the advent of services like Netflix, Hulu, and Vudu, combined with the increasing popularity of streaming devices, has started turning the market on its head. Riding on top of all that, of course, is the ready availability of fast internet access, and recent net neutrality rules passed by the FCC that will make it difficult for cable companies to use their dominance in internet access to demand fees from streaming companies. In other words, the market is wide open.
HBO was the first to break from the traditional model back in April, striking a deal with Apple to exclusively make itself available through its AppleTV for $14.99, again with one month free. It's not known when that exclusive deal will end and HBO Go will become available on other devices.
Now that Showtime has taken the jump, it is clear that content companies believe the streaming market is only going to expand – something that cable companies are increasingly nervous about.
Both HBO and Showtime have recently been licensing their old shows to other services such as Hulu, Amazon Prime, and iTunes, while retaining their most current shows exclusively on their platforms. It remains to be seen whether the networks will continue that approach once their current contracts end, or whether they will try to get people to subscribe to their network to access any of their content.
And now the hardware
Just as the video content market is being shaken up, the streaming hardware market is also going through significant changes.
It was expected that last month would see launches of the 4th generation Apple TV and the new Roku 4 but both have been put off as the companies nervously eye one another.
Apple was hoping to leap ahead of its competition by offering a full cable-cutting service, signing up with cable companies to stream their content through its box. Combined with HBO, Apple hopes it will push its product further ahead of the Roku (at the moment AppleTV has around 40 per cent of the market, and Roku 30 per cent).
However negotiations have been tricky and Apple chose to delay rather than launch its 4th generation Apple TV without the deals.
Roku meanwhile was intending to launch the Roku 4 this summer. The 4 will apparently come with 4K UltraHD resolution as well as improved software, expanded WiFi (802.11ac as well as b and g), and much more RAM for speed.
The company held off on the 4, however, putting out a higher spec Roku 3 (read our review) in an apparent effort to spoil the expected launch of Apple's new product. The Roku 4 is now expected in the fall.
Meanwhile, Amazon has tried to differentiate itself in the market (currently it has less than 15 per cent) by offering a games streaming service. Last month, it announced a new app – GameFly Streaming – that lets you rent bundles of the latest games for $7–10 a month. This is something none of the other streaming boxes currently offer, and Amazon hopes there is a big enough market of people who want to play games but don't want to splash out on an Xbox or Playstation3.
It's going to be a lively 12 months in the content streaming world, and Showtime's decision to make itself available outside cable bundles is just the latest sign of a market in flux. ®
Sponsored: Practical tips for Office 365 tenant-to-tenant migration